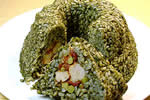 Stone bass meat is worked as little fishballs and then cooked in tomato sauce. Spinach risotto lines a mold and is filled with these fishballs. Beautiful to see and tasty to eat.

This is a vegetarian recipe but you can add sausage, if desired. I think it is a perfect choice for your New Year's Eve dinner party. In fact, you can prepare it in advance.
Baked rice dish wrapped in raw ham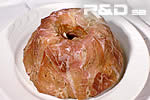 This is one of those recipes you learn at home at the time of adolescence, which comes in handy when you have a lot of guests and the problem to organize yourself can become really obsessive. Just use a quality of rice that does not overcook. Prepare a simple risotto without tomato. Spoon it on a baking sheet lined with ham and turn the oven on when your guests arrive or a little later depending on what you have planned to serve before rice dish. What do you think about?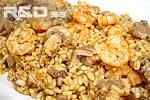 This is a recipe for people who like simple to do but tasty dishes. Do you know how good prawns and mushrooms are if combined together?
Do you know goose salami? this is a typical food in Piedmont. It's very tasty and works very wellwith rice. Try it! It's easy to buy goose salami online.
Risotto with potatoes, chicken and black truffle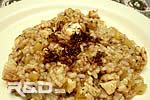 Just a sprinkling of black truffle is enough to make a simple risotto with chicken and potato a fantastic dish for your Holiday season menu. And you'll need very little truffle, so this dish has a very affordable cost.