Themed dinner menus
S. Valentine's day - Menu with fruit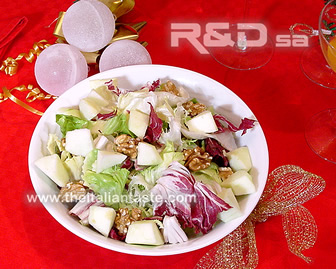 Menu with fruit
Italian "Prosecco" with appetizers
Ice-cream with berries
Wine
Italian "Prosecco"
This menu is very sober, ideal for a romantic dinner. It isn't heavy, it's tasty and, first of all, it has no onion or garlic. Even a man with little experience in kitchen can prepare it.
Its starter is very simple: very cold Italian "prosecco" to be served in the classical flûte. You can combine some green olives and little pieces of fresh fruits (kiwi fruits, sliced - strawberries - segmented mandarins).
You have to cut fruits very few minutes before serving in order to avoid color alterations.
You can serve the same prosecco with all other dishes not to change wine.
After the ice-cream, you can serve a liqueur such as "arancino".
Turkey olives can be prepared in advance; you can wash salad greens some hours before.
The only dish to be cooked at the time of serving is "risotto" but involving your guest in its execution may be very intriguing.
You can modify easily the quantities of every recipe.