Spring branch
Handmade spring and Easter decoration: a flowering branch to hang on your front door
Have you seen how nice and new this Easter decoration is? but it is OK only for Easter? absolutely not. You can keep it hanging on your door throughout the spring season. We have the habit to see the usual good-luck crowns on the main doors. In this case, this handmade decoration is absolutely innovative. Everyone will look at it, for sure! Other Easter or spring decorations?
You'll need
- Green plasticized steel drawn wire (1.4 mm in diameter )
- Brown synthetic mohair
- Green synthetic mohair
- Little birds
- Other little spring decorations such as butterflies, caterpillars ...
- Felt or silk flowers
- Transparent nylon thread to hang the decoration
- Cutters
- Scissors
- Pliers
- Strong glue
Here are the instructions to make a spring branch with flowers and little animals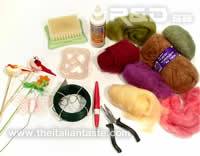 zoom »
- First of all buy the robust plastic wire I've just suggested.
I bought a spool of 50 meters because I'll also use it to do something else.
It is easy to find it.
- Then you have to do the inside structure.
Just bend your wire repeatedly doubling it to strengthen the structure even more.
Try to follow the shape of my branch by looking closely at the photo.
Of course you can follow your imagination. Sometimes what counts it's only the tip ;))
- Then twist the brown mohair repeatedly around your metal soul.
Do not use different wool, there wouldn't be the same results.
Don't let uncovered pieces of wire.
Besides try not to make too uniform every branch.
Create nodes for example, as you can see in natural plants.
- Once finished, put green wool here and there to create the contrast of colors.
Apply your decorations with a drop of strong glue.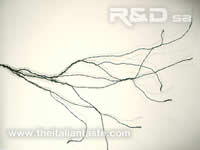 zoom »
- Your decoration is ready!
- To hang it on the door. Tie long pieces of nylon thread at the ends of every branch and then bind them together to the inside handle by passing them over the door.
- As you can see I used some felt flowers I had made by hand. It's a possibility.
Everyone who loves to work felting wool and has the right material at home can make them.
Those who can not use this technique can choose silk flowers (peach, cherry ...) with equally beautiful results.
- You can see all that you need, included the items for needle felting technique, in one of the photos.