Mini Christmas tree ornaments made of beads
A little Xmas tree if you have no space but don't want to give up home decor
Christmas tree is the most desiderable decoration at home because it is the true sign of Holiday Season. But if you have limited space how can you make a nice-to-see tree? Mini trees are the solution and there are many ways to make them really beautiful even with handmade ornaments as I'm going to show you. What about using beads?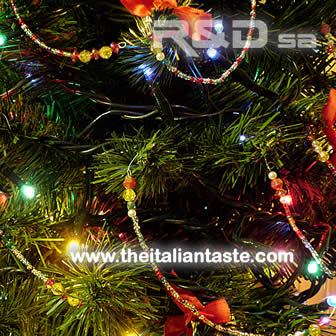 You'll need
- A very little synthetic Christmas tree
- Blinking lights
- Red ribbon
- Gutermann iced pearls or other beads
- Thin stainless steel wire
- Scissors
How to decorate mini Christmas tree with pearls and beads
It's very easy to make this Christmas decoration. Choose a little tree and the adapted blinking lights.
- Start by placing blinking lights.
- Cut stainless steel wire into pieces, 10 to 15cm (4-6in) long.
- Then thread iced pearls and other beads into every piece, alternating colors.
- Let the two ends of every wire piece free so you can tie them around the branches of the tree.
Complete with a little red bow that hides the ends of the wire piece.
- Look at the enlarged image for more details.
- Your Christmas tree is ready!
blog comments powered by

Disqus