The Art of Receiving Guests
How to celebrate at home, Italian-style
Hi, I'm Italian. My name's Loretta. I'm very fond of house party planning. I'm convinced that celebrating at home any important moment of our life and holidays is magic. Why? The atmosphere we are able to create can leave good memories in all our guests. This is the gist that has always encouraged me to do so.
Think of this: my husband fell in love with me during my usual wonderful Greetings' dinner at Christmas ;)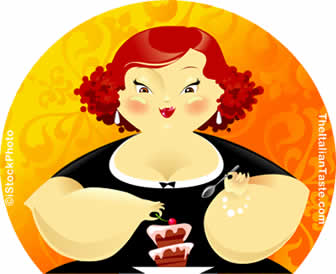 This is the most important section of TheItalianTaste website. Our site was created to help you in planning:
- Christening, Confirmation, Communion and Wedding parties
- formal and informal lunch or dinner party
- the holiday season
- spring, Easter, Valentine's Day, International Woman Day, Carnival and summer celebrations
- Halloween with fairy tales too
- retirement party
- graduation party
- housewarming party
- vernissage
Well, what do you have to know in planning a house party?
- first of all the most important rules of etiquette for not giving a bad impression in the case of formal ceremonies and celebrations
- how to invite people and to have editable patterns of invitation cards to choose
- how to plan a ceremony
- how to decorate your house
- how to plan your menu
- how to make a perfect centerpiece
- how to make menu cards and placeholders
- how to thank for guest participation and for any gifts received
As you can understand easily I created all my recipes for planning a lot of menus dedicated to important occasions. But you'll be able to find traditional Italian recipes in the same sections too if you want to plan a traditional Italian menu for your evenings with friends.
In the same way my husband and I created a lot of Italian wine cards so you can read all the sensorial qualities of the wine we pair and suggest you for every menu.
For the most exigent of you, those who want to leave your guests breathless there is Only-Members Area.
With the small sum of 20 euros you'll be free to visit it for a year. What is there in this area? menu cards, placeholders and inviting cards with the same theme, my best table setting ideas, my tastiest recipes and more

Rules of etiquette (Good manners) but many common-sense tips to overcome successfully small and big difficulties
A lot of editable patterns for all your occasions to choose and free download
How we Italians plan a BBQ party, a cold dinner, alfresco dinner, a ceremony menu, a meal, buffet.style ...