Insalata di gamberi e fagiolini
Green bean & prawn salad
Green bean and prawn salad is a tasty dish you can serve warm in winter or cold in summer. It's suitable for seafood lovers and children. You can make it with fresh or frozen ingredients and prepare some hours ahead.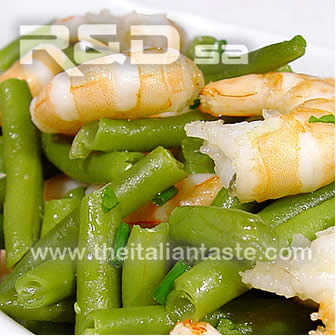 450g (1 pound)

frozen prawns

350g (12 1/3 ounces)

frozen green beans

1

lemon

2 tablespoons

dried chives

1 tablespoon

dried parsley

1

dried bay leaf

1 teaspoon

dried marjoram

1 1/2 tablespoons

extra virgin olive oil

Salt
Time:
preparation: 20 minutes
plus thawing and marinating time
cooking: 30 minutes
total:

50 minutes
Difficulty:


easy recipe

Nutrition Facts (amount per serving):
Calories:

377 (kCal)

19 % GDA (*) - 1576 (kJ)
Protein:

27.9 (g)

38 % GDA


Total fat:

11.9 (g)

17 % GDA


Total carbohydrate:

9.4 (g)

4 % GDA


Sugars:

7.2 (g)

8 % GDA
The recipe of prawn & green beans salad
Preparation and cooking
- Thaw the prawns dipping them directly in boiling water.
Let them boil for less than a minute.
Count the time from the moment in which the water begins boiling again.
- At this point drain and let them cool.
Then shell them.
- Squeeze the lemon and pour its juice in a little bowl.
Add the bay leaf and prawns.
- Let the prawns marinate in the lemon juice for about 30 minutes. Remember to stir them now and then.
- Meanwhile steam the green beans.
Let them cool, cut into two or three pieces and put in a bowl.
- Drain the prawns from the lemon juice and add to the bowl together with the aromatic herbs and olive oil.
Season to taste with salt and stir.
Just before serving
- Chill the salad with prawn and green beans if you prepare it ahead but remember to bring them back to room temperature before serving.
Tips and menu planning
- In winter you can add hot green beans and so you can serve this dish warm.
In summer you can serve this prawn-and-vegetable salad cold. Besides you can use fresh aromatic herbs, baby green beans and fresh prawns.
- If you buy raw, fresh prawns, you have to increase the quantity (600g - 1 1/3 pounds), boil them for 1-3 minutes until their shells turn pink and then remove their shells and heads.
- If you like, you can add a garlic clove in the marinating juice. We prefer not to use it in order to taste the real flavor of the ingredients.
- This prawn-and-vegetable salad is a good main dish for your

daily menu

all the year round as we've just said.
Ideas for a special occasion menu. It's perfect as

starter

in a seafood menu or it can be a tasty course in a

buffet

table.
Healthy eating
-

Daily menu.

This tasty salad with prawns and green beans is a typical Mediterranean dish.
It's rich in protein for the presence of prawns. It's a low-fat dish because we don't use too much olive oil. This is the reason why we have the habit of marinating the prawns.
The only problem of this recipe is its high cholesterol content. In fact the prawns don't have high total fat but high cholesterol. 150mg per 100g edible portion. 255mg is the daily requirement. So if you have to control your cholesterol you can't prepare it frequently.
According to the nutritionists we should eat protein at dinner. The recommended calories for dinner are 500 - 600 for a person with an energy requirement of 2000 kCal per day to be divided into five daily micro meals.
Choose pasta with vegetable sauce and fruit for lunch to have an healthy daily menu.

-

Celebration menu.

Don't worry in this case. A special occasion happens rarely, doesn't it?
- If you want to drink a glass of wine remember you have to add 80 to 85 calories per 100ml.
- I remember you our original home recipes can be made without salt. There is always a combination of flavors that substitutes salt. Other no salt recipes ...
By Loretta
What's the right wine for " Insalata di gamberi e fagiolini " ?
Our suggestion is: Regaleali Bianco (white wine from Sicily)
---