Creating a special atmosphere is a strategic move. The guest must feel at his ease; you'd think of that planning your party. Choosing the right menu is very important but it is also important to think about music, flowers decorations and how setting the table.
When you decide to dine in the open, you have two possibilities of setting the table: one large table or a few little tables. In the second case you'd avoid to space out them. If the guests get on well together, they'll bring them near with some confusion. The little tables should have the same table cloth. That may be a problem. But nowadays you find a lot of paper accessories in varied combinations of style and colors. To choose the paper isn't always easy. Many people mustn't feel at their ease, above all with knives and forks. In order to obviate this difficulty it is enough to buy stronger models. Then you have to consider the great advantage for the hostess: a moment is sufficient for clearing. By the way, it could be useful to prepare a big colored head in a retired place: an ecological garbage-can!
But let's return to our subject. If you don't like paper and choose a dinner set, this shouldn't be made of china but of piece of pottery with rustic decorations.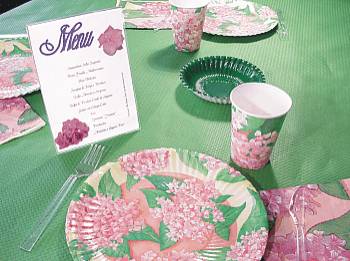 Some words about the colors: it's a very personal choice but it's important the colors are well combined together. In the example that we're proposing to you we use green table cloths that agree with the floral theme of the evening: the hydrangea.
Dishes, glasses and napkins are decorated with these flowers; big heads overflowing with hydrangeas are placed in strategic points; the menu card has images of these flowers.
The heads can be prepared in the morning if you can place them in a cool place. Some words about the menu card: it's essential in every occasion.
Guests can read and know what are the courses and so they can make a better choice.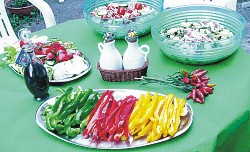 It isn't necessary that every guest has his own menu card: you can show it on the table where you'll place all that is necessary: dishes, glasses, bottles of wine and water, forks, spoons, knives, napkins, bowls and, obviously, the dishes full of titbits!
Another thing. Don't forget undesired guests: mosquitoes, flies and gnats! Now you can find many products on sale to reduce this problem. We have another suggestion for you: don't forget the music at low volume. It's a touch of class! If you have any problem,