Impasto base con lievito fresco
Pizza dough with fresh yeast
Authentic Italian recipe
How to make pizza dough with fresh yeast at home? we are going to teach you how to make a tasty pizza dough when you haven't enough time to do a double rising. The double rising allows you to use a smaller amount of fresh yeast with best results for the taste of your pizza and your health. But if you have no time ... read below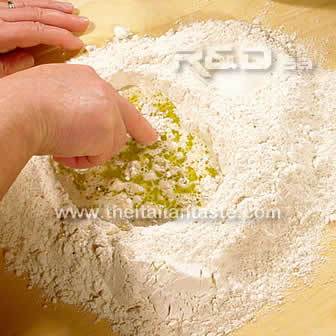 Ingredients / Serves 4
500g (1.1 pound)

all-purpose flour

plus more for dusting

25g (1ounce)

fresh yeast

3 tablespoons

extra virgin olive oil

300ml (10 fluid ounces - 1 1/3 cup)

warm water

2

pinches of salt
Time:
preparation:

20 minutes


plus rising time
total:

1h 20 minutes

Difficulty:


medium difficulty

Nutrition Facts (amount per serving):
Calories:

519 (kCal)

26 % GDA (*) - 2169 (kJ)
Protein:

14.5 (g)

20 % GDA


Total fat:

10.9 (g)

16 % GDA


Total carbohydrate:

96.7 (g)

36 % GDA


Sugars:

2.2 (g)

3 % GDA
Look at infographic of nutrition facts
Download recipe free PDF version
Prepare the pizza dough. Put the flour in a bowl or on a work surface. Make a well in the centre and crumble the brewer's yeast in it. Melt it with some warm water with a fork or your fingertips and then add salt and oil. At this point slowly draw in the flour from the edge of the well, stirring and adding the warm water gradually, until a soft dough forms. It's difficult to say how much water you need. The quantity can vary every time. It depends on the flour, on the temperature and on other variables. Sometimes you'll have to add much more water; or you'll have to add some flour if the dough is very sticky. But don't worry! You'll become very good in a short time. You only need to try a few times. Knead the dough on the floured work surface for 10 minutes until it is smooth and elastic and there is no trace of the dough on your fingers. Cover with a napkin and allow to rest for at least 2 hours or until the dough doubles in size in a warm place, faraway from draughts.
If it is cold, you can put a bowl full of hot water under the dish with your pizza dough.
If you want to learn how to make pizza dough very well, consult our "Cookery school". A rich sequence of photos explain to you how to prepare a perfect dough step-by-step.
Healthy eating
I notice, surfing the web, people often indicate doses for pizza dough that are exactly twice the number of ours. 1 kilo of flour that serves 4 is a real exaggeration. Look at some of our recipes for pizza and control calories, fat ... Some of them are high-calorie pizzas with our doses but if you double the portion of the flour you have to add other 430 to 450 calories. Too many calories for a single-course meal, does not it? considered that the average daily calorie intake is 2000 kcal. If you love pizza and want to eat it often you have to think of what I've just written.
Loretta