Welcome to the party
An amusing panel for your Carnival party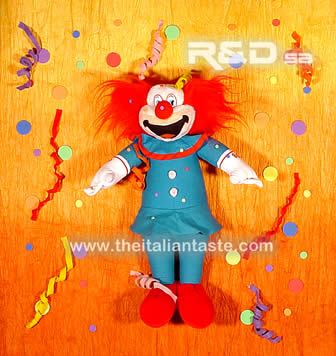 You will need
- A foam board
- A Carnival plush doll
- A sheet of wrinkled paper
- Foam rubber mix, 200 pcs (Gütermann)
- Felt in different colours
- Silver plated wire, very thin
- Some pins
- Scissors
- 3D glue for foils (Rayher)
- A pencil
- A rule
Choose the doll you prefer and then the paper and felt (combine very well all the colours).
You have to decide the size of the foam board and paper only after you have the doll in your hands. For more details look at the photo.
The first step is to make two holes in the foam board according to the place you want to hang your panel; then pass a string through the holes.
Spread the sheet of paper over the foam board; fix it with some pins on the back.
Place the doll and fix it with some big pins.
Choose the round pieces among the foam rubber mix and glue them on the sheet of paper.
Cut some felt strips of different colours. Every strip is 1 cm (1/2in) wide and 30 cm (12in) long.
Cut the silver plated wire into pieces (the same number of felt strips); every piece is 25 cm (10in) long.
Glue every piece of wire on the back of a felt strip and then roll it around a finger of yours. Glue every rolled strip on the sheet of paper. Look at the photo for more details.
Note
- We chose Bozo but you can use the doll you prefer. We found it in this site.
Hang this panel on your main door to welcome your guests or inside to decorate the room for the party.
Rate this!
Rating: 5 / vote cast: 1