The happy clowns
DIY clowns with poor or recycled material
I made my clowns with ricotta cheese containers, egg holders and plastic cups for ice cream. I added self-adhesive paper, streamers and a few pieces of foam rubber that can be easily replaced with cardboard. Easy and cheap decoration for Carnival that can be done at school with the help of teachers or at home to decorate the table or somewhere. Ideal if you're are planning a kid party and to teach your children how it is important reusing and recycling ;) Other Carnival decorations?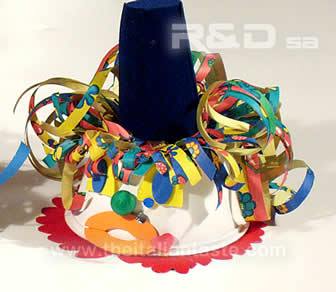 You'll need
- Ricotta cheese containers
- Egg holders
- Plastic cups for ice creams
- White and colored self-adhesive paper
- Streamers
- Foam rubber for mouth and eyes
- Colored paper balls for noses
- Scissors
- Pen
- Hot glue gun
How to make cheap Carnival decorations with recycled material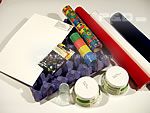 You'll need: ricotta cheese and ice cream containers, egg holders, self-adhesive paper, rubber foam (actually, I have not used this white one but other colored sheets), streamers, shiny confetti ... In the picture there aren't all the items needed, for reasons of space.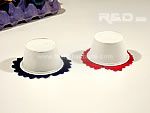 This is the first step: covering cottage cheese containers with white self-adhesive paper. The reason is to hide their writings. But you can get the same result with white card too. Now that I completed my work, I suggest you use, if you can, cylindrical containers insted of truncated cone shapes like mine. This will simplify your life ;) Then I cut out circles, from red and blue self-adhesive paper, with greater diameter than the container and made a scalloped edge. Few little drops of hot glue to fasten the containers on these bases are necessary at this point.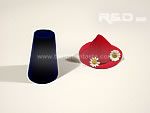 Here are the clowns' hats!
I got the tall and narrow hat from the ice cream container. I lined it externally with the blue self-adhesive paper. On the contrary the red one derives from the egg holder. I cut out its cone structure. I coated it with the red self-adhesive paper through some triangles to overlap. I fixed these triangles with some little drops of hot glue. Then I designed and cut out a base and I glued the two parts inserting the flowers too.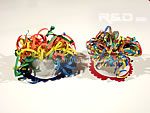 Here you can see my two clowns, partially finished. My husband photographed them when I had just finished their hair. Hair is made of streamers. I fixed more or less long pieces on the upper surface of the containers with hot glue. The beauty of streamers is that you can also curl them with scissors.
As you can see, I also did a bangs to a mask of mine.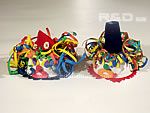 Here are my complete clowns!
The last step. I cut ot the mouth and eyes from the foam rubber (but you can use colored cardboard too) for every clown. I used very colored polystyrene little balls, for the nose. In the end I glued all these pieces and their hats. If you want you can enrich your masks with confetti or other small pieces from foam rubber.
Rate this!
Rating: 5 / vote cast: 1