A wool garland
A wool garland for a teenager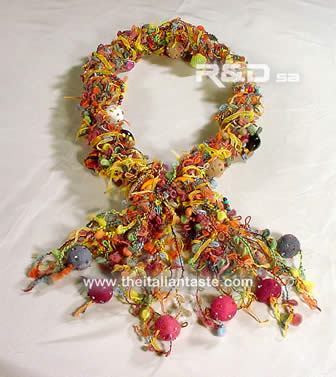 You will need
- A ball of wool, whose lenght must be 50 m (1950in)
- Cream colour thin string - 2 m (78in)
- Orange colour thin string - 2 m (78in)
- Green colour thin string - 2 m (78in)
- Organza ribbon - 4 m (156in)
- Coloured felt little balls - 10
- Glass, metal and material beads
- Wooden little beads
- 2 large circular beads with hole
- Scissors
- A serving needle for wool
- A piece of thin wire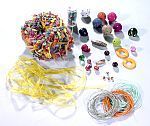 zoom » The winter is coming and we'd like to wear something warm that must be beautiful too!
Besides woman accessories made in wool combined with beads are in fashion in Italy.
So we've thought to make a warm garland made with wool that you can also wear as a scarf. In this page you can find the teenager version. In the next page the lady version.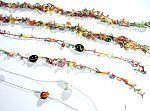 zoom » We've chosen a multi coloured ball of wool so everyone will be able to accompany it with a great numbers of dresses. The strings and every kind of beads or ornaments are well combined with the colours of the wool. Choose some glass beads to have some spots of light.
How to make the garland.
Thread the beads with a narrow hole on the strings (about 4 on each string). You could have some difficulties in threading them because the needle couldn't go into the hole. In this case use a little piece of a thin wire. Make a slot with an end and let the string go in.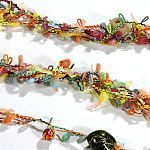 zoom » Thread the second end into the hole of the bead. Fasten every bead with two knots: the first at the entrance of the string, the second at the exit of the string.
At this point cut the wool into pieces whose lenght must be 190 cm (74in).
Coil a piece of wool around a string but be careful the wool be slack. Repeat this step for other five times around the same string. Make the same steps for the other two strings. Now you have three parts of your wool garland.
Thread the beads with a bigger hole (about 12) together with 4 felt balls into three pieces of wool (about 4 on each piece). Use the needle for this step. Fasten every bead with two knots. Coil every piece around a part of the garland.
Put the three parts together coiling them up. Coil the last pieces of wool around the garland.
Thread the little wooden balls into the organza ribbon, using a little piece of the thin wire. Thread 10-12 little balls, fasten them with two knots, let a piece of the ribbon free and then thread other beads. Keep on in this way until you finish your balls. Coil the organza ribbon around the garland but be careful the wool be slack.
Push in the two large circular beads with a hole into the two ends of the garland.
Thread the last felt balls at the ends as you can see in the photo. Cut the pieces of wool and the strings that are too long.
Your wool garland is ready!
Rate this!
Rating: 5 / vote cast: 1