Thermos holder
Handmade bag for your coffee or lunch thermos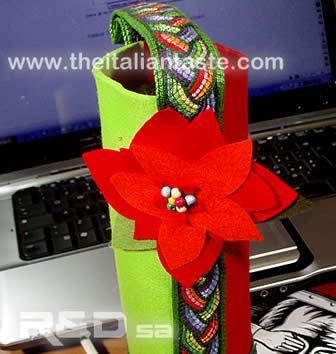 You will need
- Red felt in 5mm thickness
- Green felt in 5mm thickness
- Multi coloured trimming
- Thinner felt of different colours for the flower
- Wooden beads
- A needle and thread
- Scissors
Nice thermos holder, so beautiful that it can be carried out of the handbag.
You have to adapt this bag to the dimensions of your coffe or lunch thermos.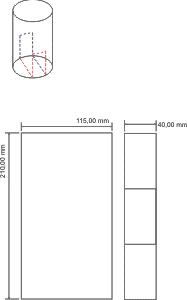 zoom » Measure your thermos and prepare a pattern to verify the measures are right. Use also this pattern to cut the felt.
Choose the felt with the colour you prefer and cut two rectangles; these rectangles, sewn together by hand, will form a cylinder, the most important piece of the bag. The bottom is made with a large strip of felt; insert it for 4 or 5 cm inside the cylinder.
Try to hide your stitches; at any rate some of them will be covered by the trimming.
Sew the trimming as you can see in the photo and its enlargement.
Prepare the flower. Draw 4 patterns of flowers with five petals whose dimensions are smaller and smaller. Use them to cut your flower from the thinner felt. In the same way make 2 leaves: one leave must be pale green, the other dark green. Sew all the pieces together fixing the beads in the centre in the same time. Sew the flower on the trimming.
Your bag is ready!
Note
If it is a problem for you sew a cylinder, you can make this bag with a square bottom. In this case the sides will be four rectangles.
Rate this!
Rating: 5 / vote cast: 1