Handmade muff
A polar fleece muff suitable for women who feel the cold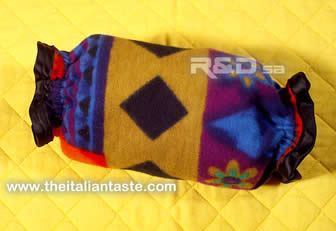 You will need
56x35 cm (22x14in) polar fleece
60 cm (24in) satin ribbon (width: 2 cm - 4/5in)
60 cm (24in) soft elastic (width: 1 cm - 2/5in)
29x26 cm (11

3/5

x 10

2/5

in) polyester wadding
Sewing needle, sewing thread and tacking thread
Tape measure
Scissors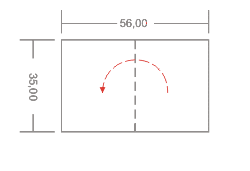 zoom » Easy-to-do, practical, original muff. For yourself or to give to a woman that feels the cold. Perfect Christmas gift.
Polar fleece is low-cost and you need very little as you can see in the images.
Another thing: you can fold this muff and put it in your bag. So you can always bring it with you.
Look at the images for more details. It isn't necessary to have a sewing-machine to do this muff.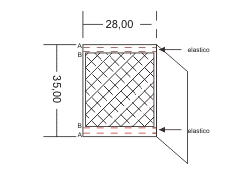 zoom » Cut the polar fleece according to these dimensions: 56x35 cm (22x14in)
Fold in half the polar fleece to obtain a rectangle (28 x 35 cm - 11 x 14in)
Make two tackings along the folded side 28 cm (11in) long: the first at 2 cm (a) from the edge and the second at 1 cm (b) from the first. They are the channels necessary for the elastic.
Open the edges of the rectangle and insert the polyester wadding. Close the edges with two tackings similar to those you have just made on the opposite side.
Sew along the tackings with close stitches.
Fold in half the satin ribbon and tacks it along the two sides 28 cm (11in) long. Then sew along the tackings with close stitches.
Insert the elastic along its channel and let the edges go out for some centimetres.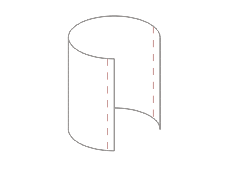 zoom » Tack together the sides 35 cm (14in) long but remember to let free the channels of the elastic. Then stitch close.
Pull the elastic up to the right length, tack the elastic to the end of the channel at both ends and then sew with close stitches.
Turn the muff outside.
If you want to hide the last stitching you can cover it with a piece of satin ribbon.
Rate this!
Rating: 5 / vote cast: 1