A summer straw bag
A simple straw bag becomes a wonderful summer bag with some silk flowers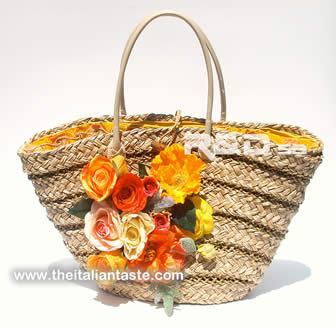 You will need
- A straw bag
- Silk flowers of different colours
- Fabric of two different colours for lining it
- Tacking thread
- Thread to sew of the same tonality of your fabric
- Needle
- Scissors
- Multi coloured trimming
- Zips of different lenght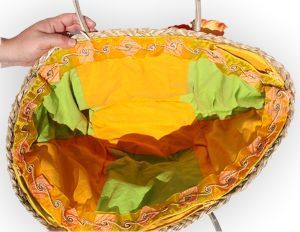 zoom » Choose the flowers according to your taste and then the fabric for lining the bag; flowers and fabric must be well combined as you can see in the photos.
I chose sun colours.
At first remove the old lining and insert the flowers. Then sew the lining. It must be double so you can make some pockets with zips (as you can see in the second photo).
Plan the lining shape according to the shape of your bag. My bag lining is made with pieces (trapezium) of alternate colours. Garnish the lining with a trimming.
The last step: sew the lining to the straw bag.
Your bag is finished and you will be able to astonish your friends with a unique summer bag!
Rate this!
Rating: 5 / vote cast: 1