D.I.Y panel for children - October
Handmade panel for children's bedroom with a witch's story
October is the first month of autumn. The month of mushrooms and fallen leaves that weave carpets in warm colors in the magnificent hiking paths. This month ends with the Witches' Night (Halloween). And this tale tells about a witch and her mushroom-home. The protagonist is Bertha the Witch, one of the characters of Fairy Elle. Read "dinner at Bertha's" to your children and build the decorated panel with their help. Ideal for the month of October and Halloween night. Other decoration ideas?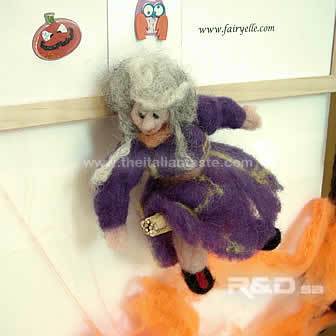 You'll need
- Black bristol board
- Brown bristol board
- White bristol board
- Red bristol board
- Pencil
- Marker pens
- Scissors
- Glue for paper
- Patafix
- Halloween cobwebs
How to make a Bristol board panel for the children's room with autumn themes inspired by a fairy tale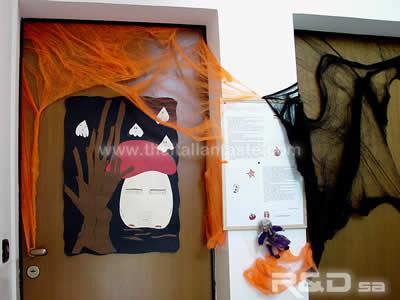 - Decide the measures for the panel according to your needs.
- Cut the edge of the black cardstock according to your imagination.
You can cut it with your hands too.
- Draw the outline:
of a leafless tree on brown cardstock,
of the base of the fungus and some ghosts on white cardstock,
of the mushroom hat on red cardstock.
- Cut out the shapes.
- Decorate the base of the mushroom transforming it into the front of a house with markers pens.
I drew its door and balconies with very simple flowers.
- Draw mouth and eyes to your ghosts with a black marker pen.
- Highlight the nodes of the tree.
- Glue your shapes on black cardstock looking at the photos for more details.
- Cut out thin strips of brown Bristol board to move the ground in front of the house and glue.
- Your panel is ready!
- If you want you can complete your decoration with cobwebs and a witch who is coming home.
You can find everything very easily during the month of October, before Halloween, at very reasonable prices. I have made the witch you can see in the photos ​​with the technique of needle felted wool.
In the picture you can also see that I hung a magnetic board with the fairy tale dedicated to Bertha, "dinner at Bertha's" decorated with typical Halloween ornaments.
- Hang the panel using pieces of patafix in several places.
- I decorated two doors for Halloween night party with my panel and some cobwebs.
It was a success, really ;))
Ideal for home and school decorations too.
Rate this!
Rating: 5 / vote cast: 1