Easter tree with flowers and eggs
Your pine tree you use for Christmas can be also decorated for spring and Easter
The Easter tree that you see in the picture is very simple to do. I used my Christmas pine. A lot of people think that pine tree is traditionally linked only to Holiday Season but it is an evergreen plant, so usable for all seasons according to me. In this way I could create a nice decoration for Easter without having to make excessive expenses. I used silk flowers I had at home. Instead of putting them in a vase I placed them among pine branches :)) Then I added some Styrofoam eggs, wrapped in felt. It's an idea but you can also use other materials, provided they are related to spring. Other Easter trees, Italy-style?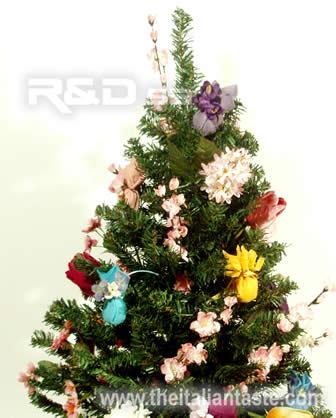 You will need
- An artificial pine, the same you use for Holiday Season decorations
- Styrofoam eggs
- Felt in different colours
- Little silk flowers and strings in combined colours
- Silk peach branches
- Silk tulips
- Silk hyacinths
Pine tree decorating idea for Easter and spring
- I had some little Styrofoam eggs and I realized Easter eggs, Italy-style enveloping a thin felt square around everyone and closing it with a piece of string and a little flower.
Look at the photo and its enlargement for more details.
I suggest you to combine well colors for your nicest result.
- To complete your decoration arrange some typical spring flowers among the pine branches.
- Your Easter or spring decoration is ready!
Easy to do, isn't it?
- Place this Easter or spring tree, as you want to call it, at home or office or in the shop window or in the atrium of a hotel ...
Rate this!
Rating: 5 / vote cast: 1