Decoupage Easter egg
Easter decorations: let's decorate a polystyrene egg with decoupage technique
Why is this egg different from other decoupage eggs? Look at the two photos: there is a double decoration.
If you look at an half there is a view, if you look at the other half the view is different. The ribbon divides the two halves. Choose the pictures you prefer and create your own view. If you are completely inexperienced you'd think decoupage would be complicated, but it isn't so. Read my step-by-step instructions below. Other spring or Easter decorations, Italian style?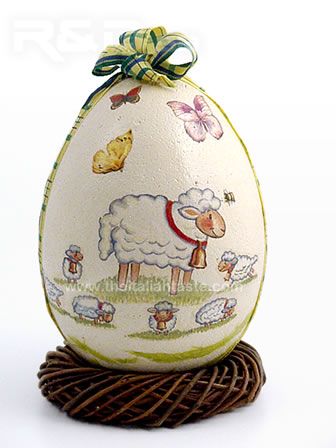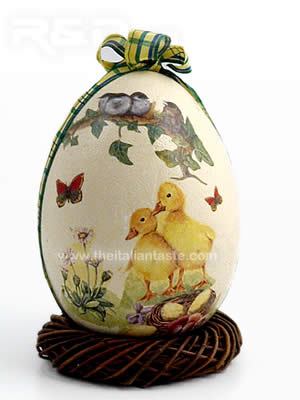 zoom »
How to decoupage Easter eggs
- 1) Spread ready-to-use plaster on the surface to make it smooth and easy to be colored.
It allows colors to show up. Let your plaster dry very well.
Repeat this step only if necessary.
- 2) Then paint your egg with the acrylic color you have chosen.
Anyway you'd choose a color like the picture background.
Let the color dry very well and make this step a second time only if necessary.
- 3) Cut out the pictures you are going to decoupage.
Moisten their back with a sponge, well wrung out. Place these pictures on the egg and apply a generous layer of glue. Make sure you completely cover any area your picture will touch.
If you prefer, you can spread glue on the back of every picture. Push down every picture using your fingers gently.
Remember to start from the center and push out any wrinkles.
Then let glue dry very well.
- 4) Complete your decoupage egg, brushing the protective varnish.
Let the protective varnish dry well.
- 5) If you want you can use some 3D colors for the details.
- You can choose a lot of spring images: flowers, birds, butterflies, bunnies and other images in pale yellow, pink and violet.
Look at the photo for more details.
You can also use small stickers with pretty Easter-theme images.
- Choose the egg size according to your need. Do you need a centerpiece for your Easter or spring table setting?
Would you like to garnish a piece of furniture?
Do you need little eggs to arrange them in a serving plate?
You could also decorate half an egg and hang it on your main door!
- I placed the egg you see in the photo on a piece of furniture.
Rate this!
Rating: 3.7 / vote cast: 3