Easter bow for main door
Easter or spring decorations: a simple bow to hang on your main door or shop window
This is an easy-to-do Easter decoration. A simple craft idea to make with your children. What is better than making DIY decorations with your kids to spend your time? You'll need only some little in polystyrene, voile paper, glue, scissors, plaster, dried flowers, jute ribbon and protective varnish. Other Easter decorations?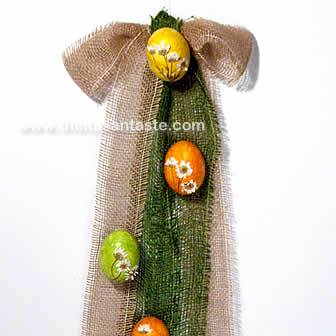 You'll need
- Begin with the eggs.
Spread ready-to-use plaster on the surface to make it smooth and easy to be worked.
Let plaster dry very well.
Repeat this step only if necessary.
Anyway you are not obliged to use plaster.
- Tear up the voile paper into little pieces.
Begin to glue them on eggs.
You can overlap them too!
Let your eggs dry well.
- Glue daisies as you can see in the photo and its enlargement.
Let flowers dry well.
- Complete decoupage eggs brushing protective varnish.
Let it dry well.
- Tie a double bow with the two ribbons as you can see in the photo.
Glue decoupage eggs on the ribbons.
Glue the largest surface in the back of the eggs to prevent them may be inclined.
Let your decoration dry very well before hanging it.
- I haven't written the right amount of everything you need because it depends on the size you choose.
- If you use contrasting colors, you have the best result.
Rate this!
Rating: 5 / vote cast: 1