The net for three eggs
An easy-to-do Easter or spring decoration telling a fairy tale too, suitable for kids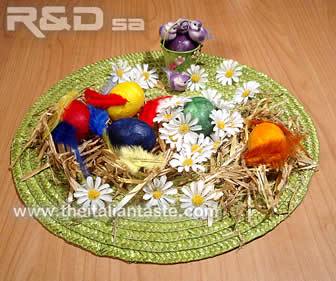 You'll need
- Voile or rice paper (red, blue, yellow, green, orange and purple) (Stamperia)
- 6 polystyrene eggs
- Little and colored bucket
- Colored plumes (red, yellow, blue and orange)
- Purple little birds
- Little silk daisies
- Straw
- Round straw mat
- Scissors
- Brush
- Decoupage glue
Step-by-step directions to make a net for colored eggs with your kids
- To do this decoration you must begin by decorating your polystyrene eggs with voile paper.
Use the three primary colors for three eggs: red, yellow and blue.
To decorate the last three eggs use the secondary colors: purple, green and orange.
Get sheets of rice paper or paper voile.
Tear the paper sheets into small pieces and glue them on every egg surface.
For more details look at the video.
- Let your eggs dry thoroughly and then proceed with the other steps.
Just look at the photo.
- Make a pile with a little straw and place red, yellow and blue eggs.
- Then lay the green egg and cover partially with the daisies you've chosen.
- Another pile of straw will be the place where to put the orange egg.
- The bucket: you have to place it behind all the other eggs and put in the purple egg and the birds on the top.
- The final touch: the plumes on the different eggs.
- Do you see how easy it is?
Your Easter or spring decoration is ready!
- If you don't find a little bucket, make your children do it using some cardboard.
Cut out a circle and a rectangle from the cardboard. Your rectangle must have one side slightly longer than the circumference.
Then put the two pieces together with the help of a stapler.
At this point children can decorate it as desired trying to hide the staples.
- I used a straw mat for my decoration but you can use also another plate or other support, baskets included.
- I bought the straw normally used for cribs, but you can replace it with the colored Easter grass.
Rate this!
Rating: 3.5 / vote cast: 2