Easter tree
How to make Easter tree from a leafless branch: nature is waking up
What you see is the first Easter tree that I made many years ago. It was the beginning of this century, really a novelty for that time in Italy. Now I see other sites showing it as new decoration idea :((
I've always wondered why it is so fashionable to do the Christmas tree and no other decorated tree for the other seasons. For me, every season has its own beauty and should have its own tree. In fact I do them all year, seriously ;) Other DIY decorations for Easter or spring?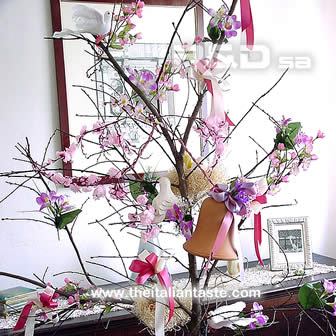 You'll need
- Leafless branch
- Bells
- Doves
. Sprigs with silk peach blossoms
- Straw
- White plastic eggs
- Colored ribbons
- Scissors
- A bucket
- Floral foam
- Synthetic musk
Decorating ideas for leafless branch: Easter tree
- Insert your branch in the floral foam and then the foam into your bucket.
- Eventually secure the foam with the aid of balled newspaper.
- Cover the surface with moss to hide floral foam and paper.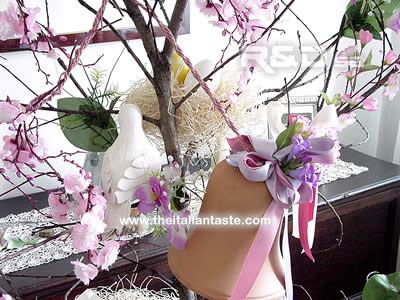 detail
- Begin to add peach sprigs. My sprigs were quite flexible and so I was able to insert them among the real branches without having to bind them. If you have trouble you can help yourself with little pieces of plasticized thread. Try to hide these pieces with flowers or doves.
- Place your doves.
Use other birds too.
- Hang bells.
- Make nets with straw and place your eggs.
- Tie colored ribbons.
I chose colors well combined with flowers.
- Your Easter tree is ready!
Rate this!
Rating: 3.5 / vote cast: 2