Fresh seasonal fruit on your fall table
Autumnal dinner party table with grapes, walnuts, persimmons ...
This is an example of unexpensive elegant table whose centerpiece is made with seasonal fruit.
Easy and quick to do table setting idea for your fall gatherings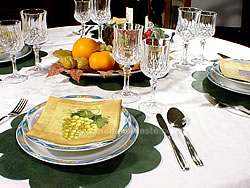 - Look at the photos for more details.
- I chose green doilies as tablemats and the same green doily is under my centerpiece.
- As you can see in the photos, I used two kinds of napkins for my table settings: grape and autumn leaf napkins.
But you can choose other subjects. The most important thing is not to choose too many different colors: the beauty of this table is based on its harmony.
- If you have to use cloth napkins for a formal occasion, you could tie everyone with two ribbons to give a further touch of color: green and yellow or green and orange.
- The centerpiece is very easy to do.
Take a large bowl, cover its bottom with autumn leaves (they must protude under fruit) and arrange fruit.
I chose red globe grapes, white grapes, persimmons and walnuts.
But you can choose autumn fruit you prefer.
- If you want, you can also use place cards and menu cards with autumn subjects.
Rate this!
Rating: 5 / vote cast: 1