Red & white coloured table
Let's use the traditional Christmas colours for setting up our table!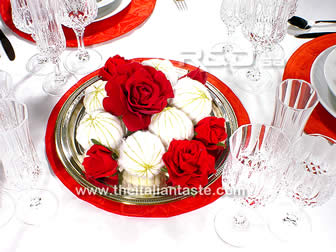 We imagine the snow when we see the white colour in winter; red is very used all over the world as the traditional colour for Christmas.
So we thought to set up the Christmas table with these two colours this year; it's a simple but refined table.
You can do ahead the decorations we suggest for your table.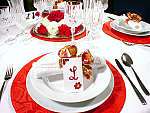 zoom »
The table-cloth is white, the crockery is in white china, knives, spoons and forks are in stainless steel; we used crystal glasses for water, wine and sparkling wine. Tha tablemats are made with red fabric and one tablemat is put under the centrepiece. The napkins are tied up with a tartan ribbon based on red colour. You can made some simple placecards using red or white business-cards; decorate them with a glitter pen and red paillettes. Look at the photo for more details.
The centrepiece is very simple. Brush some acrylic glue on the surface of six old Christmas balls and cover them with some cotton-wool; wind some golden thread around. Arrange your Christmas balls in a crystal bowl (or a platter) together with some red velvet roses. Your centrepiece is ready! Besides you can use it for decorating your home.
Rate this!
Rating: 5 / vote cast: 1