Gold at Christmas
Let's use golden decorations for our Christmas table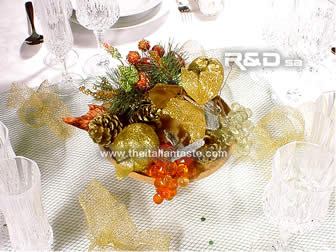 Simplicity sometimes offers the great opportunity to carry out very beautiful preparations of our table. In other words it isn't indispensable to use expensive decorations to obtain great results!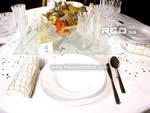 zoom »
The table-cloth is white, the crockery is in white china; knives, spoons and forks are in stainless steel. We used crystal glasses for water, wine and sparkling wine.
In the centre of the table we placed a green net with some golden weft yarns.
The centrepiece is very simple to do. We chose a wooden epergne and we painted it golden with a Rayher product (DecorArt - Glitzersand - 630 Venez Gold) that it isn't particularly twinkling. We prefered to put sparkling decorations on it. In fact we arranged golden apples and pine-cones, bright red and yellow fruits, bunches of grapes, pine branches and a golden butterfly on its surface. But you could choose other decorations.
The decoration of the centre of the table is completed with delicate golden ribbon.
Every napkin is tied up into a rigid golden net.
Golden and red paillettes are strewn on the table-cloth.
You could also prepare some placecards using some business cards, half-folded and decorated with paillettes and glitter pens.
Look at the photo for more details.
Rate this!
Rating: 5 / vote cast: 1