Gorgeous Christmas table
DIY centerpiece and other decors to set an impressive table at the Holiday Season
Who doesn't like to set well the table at Christmas? An elegant table welcomes your guests. Some details and a little fantasy sometimes help you to modify the usual look. Here are my tips!
Gorgeous and impressive table setting idea with inexpensive items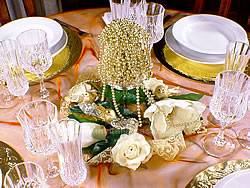 - My table cloth and crockery are white.
Generally, I use crystal glasses for water, wine and sparkling wine in my important events.
If the occasion is less important, I use only water and wine glasses.
Knives, spoons and forks are in stainless steel.
- If you want an effect like mine, cover your table cloth with a transparent and light material such as tulle or synthetic organza or what you prefer.
You can learn how to make this, consulting our page about blue Christmas table.
I chose a warm red color (magenta) to combine it with golden accessories but you can choose another one.
- I used golden paper place mats. They are cheap and fit well for this occasion.
- Now, let's take a look at my centerpiece!
- Click on the photos to see more details.
- In the center of the table, there is a large crystal vase full of Christmas golden bead chains.
They are of different size and length. Some of them overflow from the edge of the vase and hang on the table cloth directly.
Besides, you can see some white silk flowers around the vase: roses and magnolia flowers.
To give them a brilliant and colorful effect, you have to brush normal glue on their petals and leaves and then sprinkle them with golden or iridescent powder consisiting of polyester flakes (you can find many products of them on sale for DIY Christmas decorations).
Choose the color you want according to your own taste.
They both are very refined.
- Complete your Christmas dinner table with little golden birds and a long white-and-golden silk ribbon.
- If you want to add a place card, I suggest to write the name of every guest with a fountain-pen on a little thin card and put it on the napkin.
Rate this!
Rating: 5 / vote cast: 1