Harmony and tenderness
The centerpiece reminds the colors of your tableware for a refined and harmonic table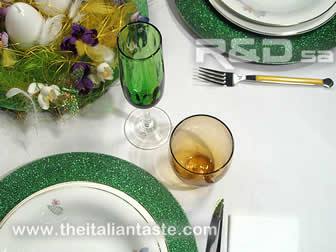 You will need
Plate or little basket
Thin straw of three different colors, two different shades of yellow (opaque and glossy) and green
Yellow and white little feathers
Silk flowers in purple, lilac, white and yellow colors
Little birds
Little butterflies
Egg-shaped candles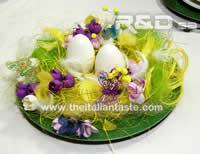 zoom »
Setting the table for Easter is quite simple. It's enough to look around.
Here's our setting idea for your spring and Easter parties!
The beauty of this table is matching the colors that evoke images of nature in spring. The tender green of the meadows which resume after the winter. The bully yellow of some flowering shrubs and bulbs. The purple and white of the most common spring flowers. And then there are the references to the new eggs and nests and butterflies.
For this reason the mats are green, the glasses yellow and green and the cutlery yellow. For a very sophisticated mix of colors.
This is the starting point we give you and you can customize to your tableware. Remember in spring there are many other pastel shades too as the whole range of pink and green.
To make the centerpiece look closely at the photos. It 's easy and quick to do. Ask your kids for help.
The egg-shaped candles are just beautiful, but keep them unlit.
Use preferably a white or pastel-coloured tablecloth.
Rate this!
Rating: 5 / vote cast: 1