Grace and elegance
A felt cord runs between the plates hosting flowers and little birds: a unique new way to decorate your table for spring, Easter or a ceremony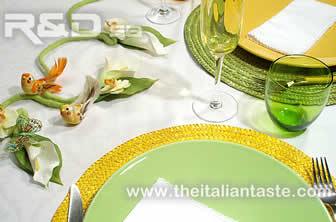 You'll need
Felt cord whose length depends on your own table
Silk flowers with very short stem or without stem
Little birds
Little butterflies
Patchwork and normal pins
Scissors
So beautiful and refined this spring table is so easy-to-do it is. The materials and colors are in fashion in spring but you can adapt the colors to your own tableware.
We recommend using a white or pastel tablecloth to make the decoration stand out more. We did not give any details on the amount of cord or other decorations because everything depends on the size of your table.
Start with the choice of colors. We used a thick cord of green felt, white silk callas with green hues, purple and orange butterflies and birds with yellow and white hues to recall the color of our dishes. We combined raffia mats in the same color of the dishes, but alternating as you can see in the photo. The whole table is very harmonious and graceful. So nice that I'd also suggest it as an idea of setting the table for a ceremony. You should choose the colors according to your tableware. You can find many suggestions in Stamperia line "Flowers for decoration" which is very beautiful and offers many opportunities.
Place the felt cord as you can see in the photo using some patchwork pins (hide them). Then add the flowers and other decorations. All other decorations will always set with the pins. Do you see how easy it is?
One caution. The most positive thing of a decoration like this is that it absolutely does not bother anyone provided that the cord is placed in a rational way. You should not go to occupy the space reserved for serving dishes or other items. Besides every bird can be placed in the top left of the table place as a placeholder with a little patience. You can put a little card with the guest name near.
Rate this!
Rating: 5 / vote cast: 2