Right flowers on your spring table
Some colorful ideas to set your table easily and quickly
The best easy and quick to do formal and informal table in the spring. Spring is associated with Easter and ceremonies but also to your gatherings with friends and family. Who loves inviting table will find many useful tips here.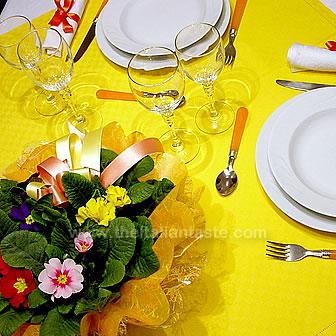 Spring centerpiece ideas and other table decorations.
- Setting your table in spring is simple because there is an explosion of buds and flowers.
You have only to decide on this matter: one color or more colors?
- I begin with people who like only a color on the table!
What are the typical colors in spring? Yellow, pink and many other pastel colors.
If you want to lay a very elegant table, you have to combine the colors of your crockery and table-cloth with flowers.
So if the predominant color on your crockery and table-cloth is yellow, you could choose among nasturtiums, anemones or forsythia branches.
You could arrange them in a crystal vase that must not be too high; your guests must be able to see one another easily.
The final touch could be a nice yellow silk bow among the flowers.
You could also use the same ribbon for knotting your napkins.
- If your predominant color is pink, you could choose among snapdragons, anemones, peonies, peach branches or roses (in May).
I suggest to exclude hyacinths and tuberoses because, even if they are very beautiful and elegant flowers, they are too sweet-smelling.
You should never use perfumed flowers making a centerpiece; in fact their scent could cover completely the smell of your foods.
You can use bows in the same shades of flowers to garnish your centerpiece and use the same ribbon for knotting your napkins.
- If you prefere a lot of colors, here are my tips!
In this case, you should choose a white or pastel table-cloth.
As centerpiece, I suggest a little basket full of primroses and violets. You can camouflage their flowerpots with some artificial moss.
This is a good idea for a restaurant too.
Another idea for an elegant, important and long table could be to prepare a centerpiece made with little azaleas in different colors.
Their pots could be camouflaged in the same way I have just described.
You could also use a cheerful hand-tied bouquet in pink and white colors made with gerbera daisies, roses, alstroemerias and other complementary seasonal flowers.
Arrange it in a crystal vase, not too high: remember ;)) You could add a final touch with colored paper napkins but remember not to use them in a formal occasion!
Rate this!
Rating: 5 / vote cast: 1