A sparkling centerpiece
A centrepiece realized for Christmas with paillettes and silver net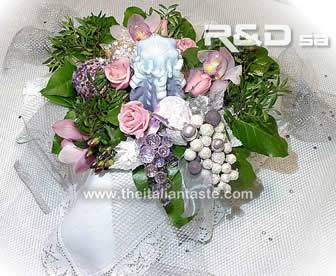 Look at the photo and follow our istructions if you want to realize this Christmas centrepiece that can be an home decoration too.
Choose a support (a pot, a vase) and cover it with a white napkin (if possible with a lace border).
Prepare some pomegranates; the exact number depends on the sizes of your centrepiece. Brush some glue on a little surface of every pomegranate and sprinkle some artificial snow and white paillettes. Complete this step on the whole pomegranate. Let it dry very well. You have to do the same thing for all the pomegranates.
Arrange the different elements on the support. Begin with the candle: place it on a little dish in the center. Then arrange silver net ribbons, green leaves (you can also choose pine or silk leaves if they're beautiful), the pomegranates you've made, some Christmas decorations (we've chosen grapes decorated with paillettes or made in plexiglass) and fresh flowers such as roses and orchids. You can also use silk flowers; in this way you have no problems with water. But if you want to use fresh flowers, you can plunge their shortened stalks in little cruets and hide them among the green leaves.
Naturally, this is a suggestion. You can also use artificial fruits and cover them with paillettes and artificial snow. You can choose other colors according to your table.
If you have any problem, !
Rate this!
Rating: 5 / vote cast: 1