Starter in chocolate egg
Edible centerpiece for your Easter table
I have always liked beautifully set tables, and I've made a lot of them, really, taking advantage of natural elements, fresh or silk flowers ... depending on the circumstances. Lately, I am attracted a lot of edible table decorations. Disassembling what you put on the table, for informal occasions, to rediscover the ritual of sharing, enhances pleasure in being together. Do not you agree?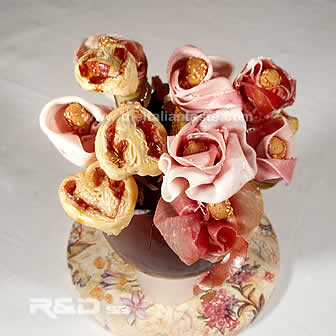 You'll need
- A chocolate egg
- A knife with a sharp point
- Breadsticks, slices of cotto and raw ham and blanched leek leaves
- Bamboo skewers and finger foods made with puff pastry
How to turn the classic chocolate egg in a container for a centerpiece to eat
I had the idea for this Easter centerpiece thinking about the combination between salami and chocolate. It is a cult in Italy!
So why not to turn the classic Easter egg in a cute centerpiece that changes its appearance depending on the course? It's enough to give it the shape of a broken egg. It's simple, really!
- Red-hot the tip of a knife.
Introduce the tip into your egg at the height of two-thirds from its base, gently, and continue giving the shape of a broken egg.
You may have to stop, clean your knife and red-hot again in order to continue.
If you halve your chocolate egg, you'll have two centerpieces!
Do this step a few hours ahead so chocolate will harden again.
Place it on a serving platter using the same little cup combined with the chocolate egg in the package or a big eggcup.
- Begin with your starter.
In Italy we have the habit to serve assorted salami, hard-boiled eggs and cheese cake in our Easter menu.
I chose tasty sesame sticks and I wrapped half slices of cotto and raw ham around their ends thanks to strips obtained from leek leaves, lightly blanched.
Then I inserted little finger foods obtained from puff pastry into the ends of bamboo skewers, as you can see in the photo.
Doesn't it look like a garden that you can eat in the true sense of the word?
Obviously, it is only a part of my starter. I had placed other salami slices, hard-boiled eggs and savory cheese cake in other serving plates.
- Once finished the starter, you can use the same chocolate egg as container for other food to place in the center of your table.
What about to use it for special breadsticks: with olives or walnuts or bacon … ? an idea to serve bread to accompany the second course ;))
- Finally fill it with chocolates or cookies!
Rate this!
Rating: 5 / vote cast: 1