A little flowered garden
A colorful ornament for the home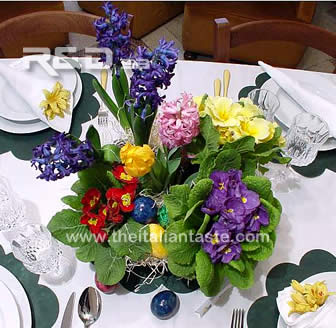 Required materials
Little vases of hyacinths
Little vases of tulips
Little vases of primroses
Hard boiled eggs
Natural colourings for the eggs
Paint brushes
Shavings
A basket
Time
About 30 minutes
This a suggestion for adobing your home or your table during Easter or spring time. It's colourful and easy to do; it's a corner of a garden with fresh flowers and nests of birds. As soon as you want to undo it, you can get back all the little plants and bulbs. In fact if you have a garden. you can plant them for the following year. Besides if you decide to colour hard-boiled eggs with natural colourings, you can eat them.
Choose a basket and some little vases of spring flowers. Colour the hard-boiled eggs. In some supermarkets there are already painted hard-boiled eggs. It's more amusing to prepare them by one's hands especially when you have children, but if you have no time ...
Arrange the little vases in the basket; then fill up the holes with some shavings. Put the eggs on the shavings, mixing well the colours.
The basket is ready.
Rate this!
Rating: 5 / vote cast: 1