Barbecue in September
September: we're still in time for doing a barbecue
September still gives us the possibility of doing a barbecue with our friends. Here is a complete menu from appetizers to ice cream for celebrating the end of summer.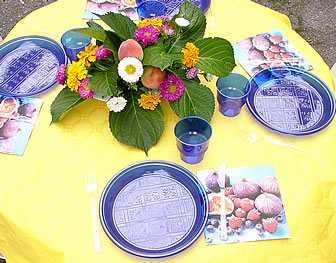 It requires no much time. The only dish to be made in advance is the pasta salad; this recipe is easy and very quick.
You can serve it just before grilling meat. 2-3 hours before grilling you have to marinate meat and prepare vegetables.
The appetizers can be prepared while you're grilling meat and vegetables. Grilled meat and vegetables can be eaten with ham, olives and walnuts bread.
You may buy the ice cream if you have no time for doing it or if you haven't an ice cream freezer.
This menu serves 10. If you want to know how to receive your guests or to create the right atmosphere, you can find some ideas in our pages dedicated to "A midsummer dinner".
The centrepiece you can see in the photo is easy to do and looks well; here you can find its description.
We describe how to marinate and grill meat, prepare and grill vegetables, prepare appetizers and something about the cocktail chosen.
Rate this!
Rating: 5 / vote cast: 1