Natural Placecards
Christmas or winter table ornament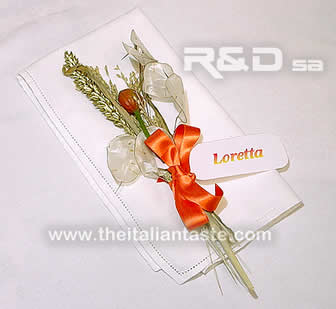 Required materials
Golden ears of wheat
Dried ears of rice
Rose-berries with their stalk
Dried white flowers
Orange satin ribbon
White thin card and pastel colors or photo inkjet paper for computer
Scissors.
Pattern
These placecards, realized with natural material, are very easy to do.
They are so easy that your children can make them.
The golden ear of wheat is a Christmas decoration but, if you want, it can be replaced with other natural material and so your placecards can be used in every moment in winter.
We chose wheat and rice because they are of good wish; all that is numerable has got this meaning.
The rose-berry has the same predominant color used in the table ornament; the same thing for the color of the ribbon.
The dried white flower points out the table-cloth. The names of guests are written on rectangular thin cards; we realized them with the help of computer but you can make them by hand too.
The important thing is using the same predominant colors in the table (white and orange).
Realization
At first you have to realize the rectangular thin cards with the names of your guests.
If you want you can download their pattern. If you make them by hand, you have to use white thin card (Bristol) and then drawn with pastel colors.
If you use your computer, we suggest to you to use photo inkjet paper for printing. Your work will be better.
Put together a golden ear of wheat, a dried ear of rice, a rose-berry with its stalk and the rectangular thin card and a dried white flower.
Tie with a piece of the orange satin ribbon. These placecards can be made in advance.
Rate this!
Rating: 5 / vote cast: 1