Pasta with zucchini and nasturtium flowers

( Pasta con zucchine e nasturzi )
Our original home cooking
Pasta with zucchini and nasturtiums is an exclusive recipe of mine. A main dish that can seem strange but it's very tasty. To make this recipe you'll need: pasta, zucchini, nasturtium flowers, onion, capers, anchovies, aromatic herbs and olive oil.
difficulty: easy
time: 50 minutes
calories: 396 (kCal)
Ingredients / Serves 2
160g (5.6 ounces)

pasta

250g (8.8 ounces)

zucchini (courgettes)

80g (2.8 ounces)

onion

30g (1 ounce)

capers in vinegar

3

anchovy fillets in oil

1

dried bay leaf

Some sprigs

fresh flat leaf parsley

Little bunch

fresh chives

Little bunch

nasturtium flowers

1 tablespoon

extra virgin olive oil

Salt
Difficulty:

easy recipe

Time:

preparation:

20 minutes


cooking:

30 minutes


total:

50 minutes

How many calories in a serving?

Calories:

396 (kcal)

20 %

- 1657 (kJ)
Protein:

13.2 (g)

27 % GDA


Total fat:

9.7 (g)

14 % GDA


Total carbohydrate:

68.3 (g)

26 % GDA


Sugars:

8.0 (g)

9 % GDA
Download free PDF version (202 download).
Recipe for pasta with zucchini and nasturtium flowers
Preparation and cooking
- Trim their ends from zucchini, wash and pat dry with absorbent kitchen paper.
Cut them into thin rounds.
- Pour olive oil in a non-stick frying pan.
- Clean onion, chop and add to your pan.
- Add bay leaf and anchovy fillets too.
- Fry slightly, on very low heat, to let anchovies melt.
- Add zucchini and capers. Stir with delicacy.
- Continue cooking on very low heat, stirring now and then, about 15 minutes.
Add hot water only if necessary.
- Meanwhile cook pasta al dente stage in a pot of salted water. Follow instruction on the package.
- Clean, wash and chop chives and parsley.
- Wash nasturtium flowers dipping them quickly in cold water. Pat dry with absorbent kitchen paper.
Remove every stem and cut all flowers in two or three parts.
- Cut chives and parsley in zucchini sauce just before the end of cooking.
- Transfer drained pasta into the pan with zucchini sauce.
Just before serving
- Complete pasta cooking on medium-high heat, stirring with delicacy.
- Turn off the stove. Add nasturtium flowers. Stir again and serve immediately or cold, at room temperature.
Note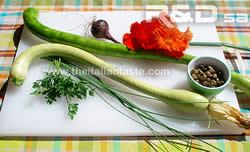 Tips
- Nasturtiums I use are from our organic garden. Remember all edible flowers you use in your recipes must have had no chemical treatment.
- Zucchini are better known as courgettes in United Kingdom, Ireland and France.
- As you can see in the photo I generally use trumpet zucchini for this recipe. A typical Italian product. I think they are ideal for this recipe but you can also choose baby zucchini with the same results.
- I generally use emmer pasta but you can use your favorite pasta.
- You can prepare this pasta recipe some hours ahead and serve it at room temperature without chilling it. So it is a tasty pasta salad too.
Menu planning
- Pasta with zucchini and nasturtium flowers is ideal for your summer daily menu because it is a low-fat pasta dish but it is a special idea for alfresco dinner or a special occasion too. I think it is particularly suitable for a menu with a lot of courses for the following reasons: it is new, good-looking, easily digestible (an important thing when there are a lot of courses) and, to finish, it combines well with a lot of different dishes.
It could be a cool idea for a BBQ menu too.
Another advantage of this pasta dish is that you can serve it either warm or cold. You know how it is important to prepare some dishes ahead when you have a lot of guests, don't you?
If you prepare pasta with zucchini and nasturtium flowers for a complete menu from starter to dessert, these doses serve more people.
Useful links for this recipe
Healthy eating
- Daily menu. Pasta with zucchini and nasturtium flowers is a main course. It is a low-fat recipe, quick to do and ideal for your lunch.
Complete your meal with raw seasonal vegetables or a green salad dressed with one teaspoon olive oil and vinegar according to your own taste (per head) and, to finish, fresh fruit.
Here are the doses per head: 80g (2.8 ounces) pasta, 150g(5 1/3 ounces) zucchini, 1 anchovy fillet, 1 tablespoon capers in vinegar, aromatic herbs, 1 teaspoon olive oil.
- A tip for hungry people. Increase the zucchini amount, don't change pasta or olive oil. Zucchini have only 11 kcal per 100g edible part and very low fat so you can eat all the zucchini you want.
- Special occasion menu. Despite the simplicity of this dish, you can choose it for a full menu, sure to impress your guests. Don't worry for calories, fat, sugars in such an event. It's rare, isn't it?
- This pasta dish is dressed with no tomato sauce, ideal for people intolerant or allergic to tomato.
- This zucchini pasta recipe idea can be a perfect vegan dish if you don't use anchovies in oil.
- Pasta with zucchini and nasturtium flowers has 4.2g of fiber (daily value is 23.0g)
- If you want to drink a glass of wine remember you have to add 80-85 kcal per 100 ml.
Loretta
What's the right wine for " Pasta with zucchini and nasturtium flowers "?
Match this pasta with zucchini and nasturtium flowers to a good-quality Pinot Grigio of Lison Pramaggiore DOC. Our favorite Pinot Grigio is produced by Le Carline an organic agricultural company in Veneto we knew by chance spending our summer holidays in Caorle last year (2010). If you visit the Venetian land do not miss the opportunity to visit the farm Le Carline. The owners are very friendly and you'll be able to taste the wines they produce. Not to be missed!