Authentic Italian Cooking
Rice salad calories
Italian rice salad is an excellent summer cold recipe for your family menu but it's very easy to make a high-calorie dish. Obviously, I'm not talking about the recipes you make for your special occasions. Under my magnifying glass, there are only our daily dishes ;)
In summer we want to eat cold dishes and if the recipe we prepare is also tasty it's easy to exceed calories, sugar and fat.
Now I'm going to show you some examples and then come to conclusions, that is some tips and tricks to make tasty but standard-or-low-calorie rice salads. In other words how to cut fat and calories but not flavors in your summer rice dishes.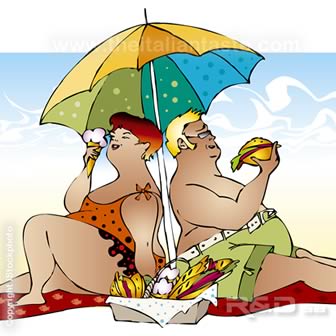 Calories of rice salad recipes
To arrive at a series of useful tips, I had to start from some specific data. Positive and negative examples of recipes to be served in summer with rice.
I helped myself with my site, by visiting other sites, reading newspapers and cookbooks.
I explored a lot of supermarket shelves because we do not forget that now there are lots of ready-to-use dressings for rice salads with oil and without oil.
Obviously I'm not considering the situation of cold rice when you prepare it for a special occasion ... ;) That's a special case, right? so infrequent.
My tips are related to rice salad recipe for your daily menu.
I listed some rice salads with their calories and fat, to compare different homemade recipes.

| Name | Calories (%GDA) | Fat (%GDA) |
| --- | --- | --- |
| Rice salad with hot red salsa and beans | 345 kcal - 18% | 8.5g - 12% |
| Italian rice salad | 509 kcal - 26% | 27.8g - 39% |
| Reading here and there (books, newspapers and web) | 898 kcal - 45% | 33.3g - 47,5% |
| Ready-to-use dressings for rice salad | 290 kcal. - 14.5% | 3.3g - 4.7% |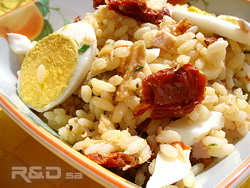 Some examples ...
First example: low-calorie rice salad (few natural ingredients)
- Let's start with a recipe of mine: rice salad with rubra sauce and beans.
Nutrition per serving: 345 calories (less then the amount recommended for lunch), fat 8.5g to be compared with 70g generally allowed for an adult with a requirement of 2000 calories a day (that's cool!).
- What is its secret? 50g (1 3/4 ounce) rice per head and few vegetarian ingredients.
Second example: rice salad with medium-high calories (a few ingredients of different origin)
- Another recipe of mine: Italian rice salad.
Nutrition per serving: 509 calories (this dish is your whole meal!), fat 27.8g
- I used 50g (1 3/4 ounce) rice per head and a lot of different ingredients (salami, cheese and vegetables)
Third example: reading here and there (books, newspapers and web)
The world is beautiful because it can vary a lot ;) There is everything!
- Right doses and ingredients until you get olive oil. Generally you can read: oil as needed. What does it mean oil as needed? do you know how many calories and fat are there in 10g (2 teaspoons) olive oil? 90 calories, total fat 10g. Nutrition facts per serving depend on how much olive oil you use. And someone has also written the calories ot his recipe ... I ask myself how it is possible (????). Evidently his ideas on this subject are not so clear.
- No specified doses and then everything is given to the good sense of the cook.
- Low-calorie recipes but how big are their portion?
- No-oil recipe .... It's too easy!
- At last I chose a recipe with 100g (3 1/2 ounces) rice per head and a lot of ingredients (cotto ham, frankfurters, mozzarella, hard-boiled eggs, fresh and canned vegetables, tuna in oil). As I've just written above the suggested olive oil is ... as needed. So I didn't add this fundamental ingredient.
Nutrition per serving: 898 calories, fat 33.3 (almost half the amout per day).

Fourth example: ready-to-use dressings for rice salad
- In Italy there are a lot of ready-to-use assorted vegetables in jars. They can have olive oil or in brine. They can be added with frankfurters too.
What about their taste? Well, I'm sure most people add other ingredients to do a better dish. But in this case there is the risk to increse calories and fat.
- In addition there would be considered all the additives normally present in these jars of vegetables and the excessive amount of salt.
- In the table above you can read nutrition per serving: 290 calories, fat 3.3g.
Only apparently it seems to be the best although I could use 300g - 10 1/2 ounces (75g - 2 3/4 ounces per head) ) of rice and all the contents of the jar (about 200g - 7 ounces). I assure you that day my rice salad had a different flavor compared with my usual recipes. I didn't like it very much ;)
- I think the best thing would be to prepare cubed fresh tomatoes, add some chives, basil and olive oil, and finally dress your boiled rice with this tomato sauce.
What about it? It's a cheaper, healthier and tastier dish ;)
Tips and tricks
- Rice dose: use a reduced portion of rice if compared with your usual amount. The ideal dose is 50g (1 3/4 ounce)
- Ingredients:
use raw fresh vegetables for a low-calorie rice salad dish
or beans and tomatoes
or a little amount of seafood
don't add too many ingredients
- Dressings:
Olive oil is a precious ingredient but every 10g (about 2 teaspoons) have 90 calories and fat 10g
avoid mayonnaise
use mustard if you like its flavor
remember: in summer you should add less salt
Loretta