Crab risotto

( Risotto al granchio)
Our original home cooking
Risotto with crab is a refined and expensive dish to choose for your special occasions. I prepare it in winter especially in holiday season and in summer, with some changes, when I plan get-togethers with friends, lovers of seafood. You can see my own summer version in the picture. Ingredients and calories are related to this recipe too. We have included below the photo of crabs prepared by fishmonger before cooking.
difficulty: easy
time: 1 hour 15 minutes
calories: 415 (kCal)
Ingredients / Serves 4
6 medium-size

raw whole crabs

350g (12 1/3 ounces)

zucchini

200g (7 ounces)

ripe tomatoes

, washed and quartered

100g (3 1/2 ounces)

fresh young onion

Some sprigs

fresh flat-leaf parsley

Some sprigs

fresh chives

320g (11 1/3 ounces)

long-grain parboiled rice

200ml (6 3/4 fluid ounces)

prosecco wine

3 tablespoons plus 2 teaspoons

extra virgin olive oil

Salt
Difficulty:

easy recipe

Time:

preparation:

30 minutes


plus cooling time
cooking:

45 minutes


total:

1 hour 15 minutes

How many calories in a serving?

Calories:

415 (kcal)

21 %

- 1735 (kJ)
Protein:

11.1 (g)

23 % GDA


Total fat:

13.1 (g)

19 % GDA


Total carbohydrate:

67.5 (g)

25 % GDA


Sugars:

2.6 (g)

3 % GDA
Download free PDF version (1193 download).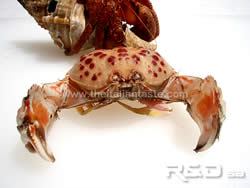 Crab risotto recipe
Preparation and cooking
- Prepare crab broth.
Chop finely half onion and put in a saucepan with 1 1/2 tablespoon olive oil.
Let fry slightly on low heat, stirring now and then.
Add crabs in their shell and continue frying, turning them on all sides, until they change color.
Add tomatoes too.
Stir and let all flavor.
Cover with hot water and bring to a boil.
Reduce heat and simmer, about 15 minutes.
Turn off the stove and let crabs cool in their broth.
- Remove meat from crabs.
Take out crabs from broth.
Strain broth and put in a clean saucepan. Dilute and salt it.
Take each crab and remove its meat as much as you can from its ventral side without touching its entrails, well recognizable and lungs that is the feathery cones that line the side of the body. The operation is a bit long because the interior is cartilaginous. Be careful to remove the bright orange stuff inside too. If you have a female crab you could find it easily. It is its roe (eggs, also called coral).
Now its claws. Again, be patient! Just crush them with a nutcracker if you do not have the special tool and remove their meat with a toothpick. When I'm at sea it's the perfect moment to find crabs easily, but it is also the moment in which I have no specific tool with me and so I found this solution: nutcracker and toothpick ;))
Put all meatcrab apart.
- Cook risotto.
Chop remaining onion.
Slice zucchini.
Let zucchini slices and onion fry slightly in remaining olive oil, on very low heat, about ten minutes.
At the same time bring crab broth to a boil.
Add rice and cook until milky, stirring now and then.
Pour in prosecco wine and let it evaporate on medium heat.
Reduce heat again and begin adding broth, a ladle at a time.
Let all cooking liquid reduce before adding other broth.
Continue cooking until rice is tender. It isn't necessary to stir continuously.
Meanwhile clean and wash parsley and chives. Pat dry excess water with absorbent kitchen paper.
A minute before turning off the stove, cut in parsley and chives and add crabmeat too.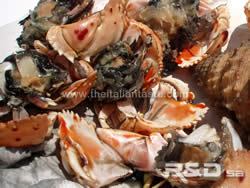 Just before serving
- Let your crab risotto rest for a couple of minute before serving.
Note
Tips
- Generally, crabs are bought at fish market alive but I confess at once I had never taken them home alive. I'll never have the courage to kill them by inserting a knife under their tail or dip them alive into boiling water. Therefore, in this site you'll never read this kind of explanation. I prefer to ask fishmonger to prepare them open as you can see in the photo beside.
- I prefer medium size crabs. It's difficult I buy a crab whose weight is 2.2 pounds!!!
- Another possibility is to use canned crabmeat. The flavor is definitely not the same but it is also true that crabs are quite rare. And then you have to settle ;) In this case, however, the main ingredient for broth is lacking. I solve the problem preparing broth with all shells of shrimp or other crustaceans that I use for the other dishes in my menu. If you want more tips, you can contact me. Scroll down the page until you find the form to use.
- In my introduction I wrote about two versions of crab risotto. I've just described my summer recipe with zucchini and tomatoes that are in season.
In winter, I use a sundried tomato for broth and add frozen or canned peas to risotto instead of zucchini.
Obviously you can add no vegetables and prepare your risotto only with crabmeat.
My recipe is successful for my crab broth idea. I add vegetables to increase its volume and give more structure to my dish.
Menu planning
- Risotto with crabmeat is expensive and elaborated so it is not a dish for your weekly menu.
- Choose it for your special occasions when you have to plan a full menu with fish. It is a refined and delicate dish you can combine with other seafood easily.
- Do not ever serve crab risotto with the crustacean yet to be cleaned. Even if you put the right tool to remove meat from claws and crustacean is already open, it is always a long, unpleasant and stressful work.
If you really want your guests see you have used fresh crabs, clean one without ruining it too much and garnish the dish with its shell.
- These doses serve more people if it is a dish in a full menu, Italian style with starter, first course that is this isotto, secondo course (another dish with fish) and dessert.
Healthy eating
- This risotto with crabmeat has an average value of calories and fat. I calculated them out of curiosity since it is a dish to do on special occasions.
- Fiber per serving: 1.5 grams
Loretta
What's the right wine for " Crab risotto "?
Pair the same prosecco you'll use to cook crab risotto.