Rice timbale with lentils

( Anello di riso con lenticchie )
Ingredients / Serves 4
325 g (11 oz)

rice for risotto

10 tablespoons

extra virgin olive oil

4 teaspoons

dried bay leaves

2 tablespoons

dried chives

2 teaspoons

dried tarragon

50 ml (2 fl oz - 1/4 C)

puréed tomatoes

1

little fresh onion, finely chopped

Half

a little carrot, finely chopped

100 g (3 1/2oz)

dried lentils

250 ml (8 fl oz - 1 C)

red wine

Saffron

1,2 l (42 fl oz - 5 C)

vegetable stock

Grated Parmesan, if you like

Plain dried breadcrumbs
Difficulty:

medium difficulty

Time:

preparation:

15 minutes


cooking:

25 minutes


total:

40 minutes

How many calories in a serving?

Calories:

XX (kcal)

- XX (kJ)
Protein:

XX (g)


Total fat:

XX (g)


Total carbohydrate:

XX (g)


Sugars:

XX (g)
Download free PDF version (182 download).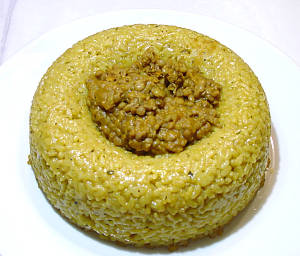 This is an ideal dish when you have guests; in fact you can prepare it in advance and then bake few minutes before serving.
The day before soak lentils in abundant cold water.
The day after drain them and put in a big saucepan with 8 tablespoons olive oil, aromatic herbs (chives, bay leaves and tarragon), puréed tomatoes, onion and carrot. Cover with water and cook over a gentle flame, half-covered. Add other warm water, if necessary.
When lentils reach half cooking, prepare vegetable stock. Store it boiling while you're cooking your risotto.
Meanwhile pour some lentils into another little saucepan and keep on cooking. They are necessary for garnishing. Put the rice into the bigger saucepan (water must be almost retired), let the cooking juice retire very well and then pour in the wine. Allow wine to evaporate over a fierce heat; at this point lower the flame and add 2 ladlefuls of vegetable stock. In one of the ladlefuls of vegetable stock, you have to melt saffron. Simmer until absorbed, stirring. Keep on adding stock, ladle by ladle, until rice is at "al dente" stage. Be careful! You have to bake risotto for few minutes too; don't cook too much! Sprinkle with grated Parmesan, if you like, and stir.
Preheat oven to 200°C (400°F). Oil with 2 tablespoons olive oil a ring cake mould and sprinkle with plain dried breadcrumbs lightly. Pour in risotto and press it with your hands in order to let rice adhere to mould. Bake for about ten minutes. Remove from the oven, wait for a couple of minutes and turn upside down a round serving platter. Pour into the central wall the remaining lentils you have finished cooking in the little saucepan.
Serve at once, cutting the rice ring into thick slices.
Note
- You can add some fresh sausage, cut into little pieces, to the ingredients when you prepare lentils. Certainly the dish will be tastier.
What's the right wine for " Our original home cooking "?
Our suggestion is: Est! Est!! Est!!! di Montefiascone (white wine from Latium).