Fregula or fregola with clams

( Fregola con arselle )
Traditional recipe of Sardinia
Fregula with clams (in Italian "fregola con arselle" or in Sardinian language "fregula cun cocciula") is a typical recipe from Sardinia. You can find it in every restaurant in the island but there are a lot of versions. Somebody cooks it with fresh chopped tomatoes, other people prefer pureed or dried tomatoes. Someone serves it with clams still in their shells, other remove the molluscs from their shells. I prefer this second solution as you can see in the first photo. But if you prefer the first solution, look at the photo below. The ingredients of this authentic Sardinian dish are: fregola (a typical pasta of Sardinia formed by irregular spheres, look at the photo below), clams (in Sardinia called arselle), tomatoes, parsley and extra virgin olive oil.
difficulty: easy
time: preparation: 20 minutes
plus time for cleaning clams
cooking: 30 minutes
total time: 50 minutes
calories: 276 (kCal)
Ingredients / Serves 4
1kg (2.2 pounds)

clams in their shell

200g (7 ounces)

fregola (Sardinian pasta)

2 tablespoons

tomato paste

2

garlic cloves

A bunch

fresh flat-leaf parsley, finely chopped

1 1/2 tablespoons

extra virgin olive oil

Salt
Difficulty:

easy recipe

Time:

preparation: 20 minutes
plus time for cleaning clams
cooking: 30 minutes
total time: 50 minutes

How many calories in a serving?

Calories:

276 (kcal)

14 %

- 1154 (kJ)
Protein:

12.9 (g)

26 % GDA


Total fat:

7.2 (g)

11 % GDA


Total carbohydrate:

39.8 (g)

15 % GDA


Sugars:

3.2 (g)

4 % GDA
Download free PDF version (216 download).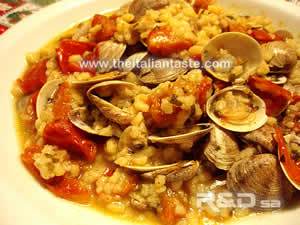 zoom »
Recipe for fregola with clams
Preparation and cooking
- Prepare clams.
In Italy we have the habit of keeping clams in cold salt water (1 tablespoon of salt per liter of water) to remove the sand, at least 2 hours.
Why this? Clams live in the sediment and so they are often full of sand and it's necessary to let them release it.
Generally I keep them in water 6 hours, changing the water every 2 hours for the best result.
After this step, transfer your clams together with a bit of water in a large pan.
Cook on high heat, covered, few minutes, stirring now and then, until their shells open. I recommend ... only few minutes.
Then remove the clams from the pan and put apart, letting them cool.
If there are some clams not open, put them in the pan again and repeat this step.
Only now you can discard the clams not open.
Free the clams from their shell and put apart.
Filter the liquid left in the pan through a cotton cloth to remove all traces of sand and put apart.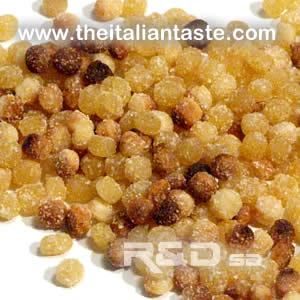 zoom »
- Prepare clam soup.
Sautè garlic cloves in olive oil, in a lage pan.
Remove garlic and add tomato paste, 800ml (1 2/3 pints) water and all clam liquid you have filtered just before.
Bring to a boil, drop slowly fregola, stir and bring to a boil again.
Reduce heat and cook, 8 to 10 minues, stirring now and then.
Keep some water boiling and add to your soup if necessary.
You must have a soup as you can see in the photo.
At half cooking add clams too.
Taste for salt some minutes before the end of cooking.
Add parsley a minute before turning off the stove.
Just before serving
- Serve your clam soup at once.
Note
Tips
- Fregola with clams must be a bit soupy and so you have to serve it at once for it becomes too thick in few minutes.
On the contrary, you can turn off the stove when fregola is al dente stage and your soup is more watery. Then let it cool.
- Do not cook your clams too much, they become hard.
Someone in Italy is used to add clams just before turning off the stove. The choice is yours, according to your own taste.
- Tip for people who don't like garlic: sautè a shallot, finely chopped, or add some fresh chives to the soup.
- If you have no time to clean clams use frozen precooked clams. It's not my preferred choice ;)
In this case let them thaw at room temperature. Then add their preserving liquid to the pan together with the water as I have just described above and add clams 2 to 3 minutes before turning off the stove.
The doses are 200g (7 ounces) if you use frozen shelled clams.
Menu planning
- Fregola with clams is a typical Italian soup you can make for your family or choose for a special occasion menu. In the second case the doses are enough for more people if you prepare a lot of dishes.
- How to serve clams. As you can see in the first photo I serve clams without shell in my formal dinners. It's better for your guests that do not get their hands dirty. It's always unpleasant to touch the shells, greasy and with traces of tomato, or removing the molluscs with the fork (really embarassing) in formal events. Besides you should put a little bowl full of scented water and a little napkin near the plate.
Healthy eating
- Remember: serving size for fregola is about 1/2 C (50g - 1 3/4 ounces)
- This is my version of the traditional Sardinian recipe. In fact I use only few tablespoons olive oil. The original recipe suggests half a glass or a glass of olive oil: too much fat. By following my tips, you can add other fish courses to your meal.
Besides I use only 2 tablespoons tomato paste. On the contrary the original recipe suggests 4 tablespoons.
- Fiber per serving: 2.0 grams
Loretta
What's the right wine for " Fregula or fregola with clams "?
Serve a good-quality white wine. Choose a Sardinian white wine such as Nuragus of Cagliari. My husband and I are used to pair Roero Arneis too (white wine of Piedmont) or a rosè wine to this clam soup. If you like red wine, you can match a young red wine too.