Pheasant: our recipes according to their main ingredients and/or cooking method
This is a very tasty dish because wild berries and orange juice are added during cooking. For your important parties.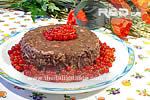 I do not think that the photo lets you have any doubts. This dish is nice to see and delicious too. You can prepare it for a cold dinner or a meal, buffet-style in the summer. Sophisticated recipe made ​​with wild berries.