Crostata arance e cioccolato
Orange-and-chocolate tart
This tart with orange and chocolate is one of the recipes I love most. I must admit that it tastes fantastic and every time I do it I find this cake more and more convincing. It's typically linked to the period of
oranges
, from December to March-April. The idea came to me after analyzing a
Sicilian recipe
, very rich in fat and sugar. This is decidedly a version with fewer calories and total fat. Other
Italian cakes
?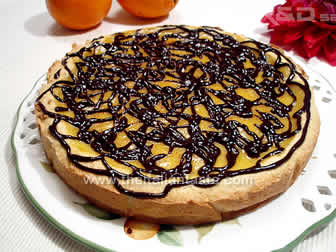 220g (7 3/4 ounces)

all-purpose flour plus more for dusting

80g (2.8 ounces)

potato starch

240g ( 8 1/2 ounces)

granulated

sugar

120g (4 1/4 ounces)

unsalted butter

4

eggs

2 tablespoons

Cointreau

3

organic oranges

250ml (8 1/2 flui ounces - 1 cup)

low-fat milk

1/2 teaspoon

vanilla powder

60g (2.1 ounces)

pure chocolate (semi-sweet chocolate)

2 teaspoons

cinnamon

Salt
Time:
preparation: 60 minutes
cooking: 60 minutes
total: 120 minutes
Difficulty:


difficult recipe

Nutrition Facts (amount per serving):
Calories:

316 (kCal)

16 % GDA (*) - 1322 (kJ)
Protein:

5.8 (g)

8 % GDA


Total fat:

11.9 (g)

17 % GDA


Total carbohydrate:

46.9 (g)

18 % GDA


Sugars:

27.6 (g)

31 % GDA
Recipe for chocolate-and-orange tart
Preparation and cooking
- Begin with short pastry.
Let the butter soften at room temperature and then cut it into pieces.
Beat two eggs.
Sift the potato starch, 170g (6 ounces) of flour and 100g (3

1/2

oz) of sugar over a working surface.
Make a hole in its centre and add the liqueur, butter pieces, beaten eggs, 1 teaspoon of cinnamon and a pinch of salt.
With your fingers work the flour, fat and other ingredients until your mixture forms coarse crumbs.
At this point knead very well and quickly until your mixture becomes homogeneous.
Gather your dough into a rough ball and put on to a sheet of cling film.
Let it rest for about 30 minutes in a cool place
- Meanwhile prepare the pastry cream.
You should use a little saucepan to be put in a bain-marie finally.
Warm up the milk.
Wash an orange and pat it dry with absorbent kitchen paper.
Grate its peel.
Put this peel aside and squeeze half of the orange.
Beat the remaining two eggs together with 140g (5 ounces) of sugar.
Beat eggs and sugar for a long time until you have a frothy mixture.
Add 35g (1 1/4 ounce) of the all-purpose flour, with a strainer, very gently in order to avoid your mixture collapse. Stir with a whisk continuously.
Put your saucepan in a bain-marie.
Begin adding hot milk and orange juice very slowly, stirring continuously with a wooden spoon or a whisk.
Your cream has to thicken but you have to avoid it boils.
So you have to take away from the flame as soon as you see it begins boiling.
At this point add the orange peel and vanilla powder.
Let the pastry cream cool, stirring now and then.
- The remaining oranges.
Remove the peel from the remaining two oranges.
Cut them crossways into slices.
Put the slices in a little saucepan and cover them with cold water.
Bring to the boil and cook the orange slices for a minute.
Remove the orange slices from the boiling water with a skimming ladle.
Put them on a plate and let them cool.
Then pat dry these orange slices with absorbent kitchen paper.
- Bake the tart.
Preheat oven to 170°C (325°F).
Grease a 26cm (10in) round deep baking pan (with a removable bottom) with a piece of unsalted butter.
Sprinkle it with a tablespoon of flour.
Roll out the tart dough (short pastry) on the lightly floured surface.
Line the bottom and sides of the pan with your short pastry.
Prick the bottom of the tart with a fork and arrange the orange slices.
Sprinkle them with a pinch of the remaining cinnamon powder.
Fill the tart with the pastry cream.
Level the surface with a knife and sprinkle with the remaining cinnamon powder.
Bake for about 45 minutes or until the short pastry is golden.
Just before serving
- Let the orange tart cool and then make the chocolate decoration.
Put half a glass of water into a little saucepan together with a tablespoon of sugar.
Bring to the boil and keep on cooking until water is half reduced.
So you have a syrup.
Cut the chocolate into pieces and put them in the syrup together with a teaspoon of butter.
Put your saucepan in a bain-marie and let the chocolate melt stirring continuously.
You will have an homogeneous cream.
Garnish the surface of the tart with this chocolate cream helping yourself with an icing syringe or a spoon.
Look at the photo for more details.
Note
Tips
- This orange tart is a typical recipe from Sicily. I modified the original recipe that is too rich in sugar and butter.
- You can prepare this orange tart in advance. You can preserve it for 2-3 days.
- You can read another tart recipe filled with oranges and chocolate cream. It's different and quicker but tasty.
Menu planning
Healthy eating
- The story does not change. A slice of this cake is about half lunch or dinner. If you really want to avoid putting on weight iit would be good to eat sweets occasionally or at least thinking about calories, sugars and fat in planning your daily menu.
But the real problem lies elsewhere: the amount of sugar. On this point all we must be careful. Unfortunately sugars are also present in many packaged or pre-cooked food in an unexpected way, salty food included.
To return to the daily balance is always useful to take a look to the labels of what we're buying.
Another useful tip: let's leave these gluttonies for special occasions and choose dry pastry or baked goods for our daily menu.
Loretta
What's the right wine for " Crostata arance e cioccolato " ?
Serve a liqueur such as an orange-flavored liqueur (arancino or limoncello) after eating this cake
---