Fall silk flower arrangement
How to choose and arrange silk flowers in a vase
I like all seasons in the year and try to embellish my home according to the colors and products of the nature. Autumn is a very colored season, full of red, orange, yellow, brown and green nuances. I love them all. I often use silk stuff for my home decorations so I can enjoy them for a long time.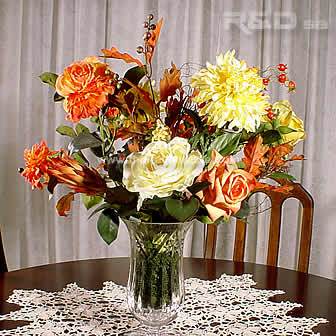 You'll need
- Yellow silk roses
- Orange silk roses
- Orange silk zinnias
- Yellow silk chrysanthemums
- Synthetic branch with orange and red berries
- Natural moss
- Scissors or wire cutters
- Crystal vase
Tips for arranging silk flowers with harmony and elegance in a vase
- Choose the autumnal silk flowers you prefer but be careful their colors create a nice effect.
- Fill half the vase with natural moss.
- Begin inserting the stems of your flowers. It will be necessary to shorten them at different lenghts in order to create an harmonious composition. Remember that they should not be longer than twice the height of your vase.
Try to mix colors well and rotate your vase while placing flowers so that they do not look all at the same side: this is especially important if you have to place your arrangement in the center of a table!
You can also bend flower stems trying to make them look as natural as possible.
Look at the photo enlargement for more details.
- At the end fill completely your vase with the moss trying to hide all stems.
- Your arrangement is ready!
Rate this!
Rating: 5 / vote cast: 1