Gourd arrangement
How to make a fall arrangement with gourds, corn cobs and other stuff on a platter
You can make a simple fall decoration for your home with gourds. It's very easy to find them with different shapes and shades of colors. Besides they last a long time, so you can enjoy it several weeks!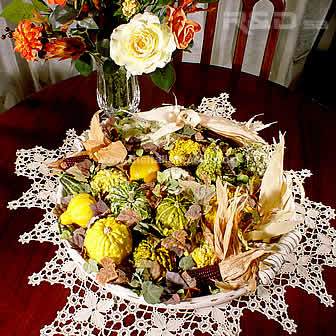 You'll need
- Gourds in different shapes and colors
- Yellow and orange or red corn cobs
- Synthetic branch with silk autumn leaves
- A platter
Easy fall decoration how-to, to show at home, office or shop
- I used a large white old platter to make my decoration but you could choose a fruit or cake holder too.
- Arrange your gourds harmoniously according to their color.
- Place your corn-cobs too. Click on the photo to enlarge and look at more details.
- Hide the branch among the other stuff and let only leaves protrude.
- Your decoration is ready!
- If you do not find corn cobs, you could use silk chestnuts, grapes, mushrooms ... I suggest silk or good-quality synthetic stuff (gourds apart) so you can enjoy your decoration a long time.
Rate this!
Rating: 5 / vote cast: 1