An handbag with silk flowers
Let's personalize an handbag: no much money, a great impression!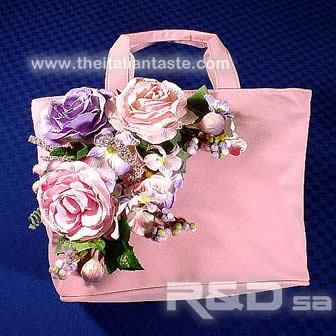 You will need
- A pink handbag
- Some silk flowers
- 3D glue for foils (Rayher)
This year the Italian fashion advise us a lot of colours and decorations for our shoes and handbags. So we present this kind of handbag, fruit of our fancy. It's very beautiful but it helps us to save our money and to follow the actual fashion.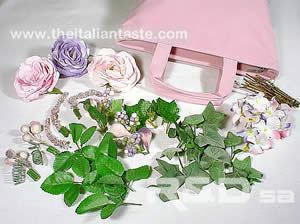 zoom »

For making this personalized handbag, you can buy a new one (a fabric handbag because it has a low cost) or reutilize an old one that you've forgotten in a corner of your wardrobe.
Choose some silk flowers with colours well combined with your handbag. To make a beautiful thing, you should choose flowers with the same colours but different shades. Some of them should be of a different colour, to make the composition not too monotonous.
Look at the enlarged image for more details.
Glue all these flowers on your bag. Work accurately: smear the glue on the back of every flower and press it on the handbag for some minutes. Let the glue dry very well; for the best result, place your handbag in a horizontal position for several hours.
Note
- We suggest to combine this handbag with pink shoes. So you'll be perfect, according to Italian style.
Rate this!
Rating: 4 / vote cast: 4