The Besom-amulet
A small handcrafted besom to sweep away all your troubles ...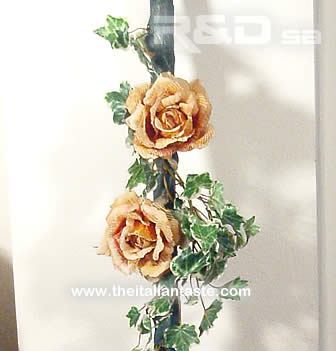 You will need
- A little besom
- Green ribbon
2 silk orange roses
- Sprays of variegated ivy
- Beads of different colours
- Very fine wire
- Hot glue gun or extra-glue
Some years ago we made a Christmas besom that was very successful. This year we have realized two new besoms: the first with ivy and roses, the second with red berries and sunflowers. So you can make or display them all the year. You can make it as a present for the new year or for a friend that has just moved house or shop ...
This work is very simple; look at the photo for more details. If you click on zoom you can look at the whole image.
Begin fixing the strays of ivy and roses along the handle. Use the hot glue gun. Let the glue dry very well.
Roll the green ribbon along the handle in order to cover all the handle. Finish with a bow. Use other glue for this step.
At this point prepare the decorations for the broomcorn. Cut the wire into pieces of different length. Thread the beads on it. Close the ends with eyelets. Fix these pieces with the hot glue gun.
You can also prepare some little decorations for the top of the handle.
Note
It's very nice, isn't it? If you prepare it for yourself you can hang it on a wall or over a door.
Rate this!
Rating: 5 / vote cast: 1