Roses on platter decorated with gold leaf
How to change a Christmas decoration to enjoy it all year round
The same platter: many decorations for all seasons. I decorated a white ceramic platter with the gold leaf technique and then filled it with pot pourri, glossy balls and silk roses for Christmas. And then? It was a pity to hide it. So I thought how I could change it with different stuff.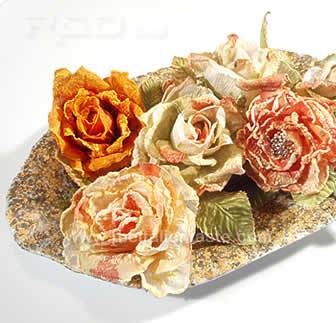 You'll need
- A platter decorated with gold leaf technique (see the stuff used in the linked page below)
- Silk roses for spring
- Sunflowers or/and corn cobs for summer
- Leaves, walnuts ... other fall fruits for autumn
- Christmas roses for winter
Some tips to change appearance and colors to your decorations
- Spring Roses, the triumph of silk roses whose colors must pair well with your furniture.
- Summer/autumn Alternate corn cobs with little sunflowers (dried or silk items).
- Autumn Place the typical leaves on the center and arrange walnuts, chestnuts and persimmons (artificial or felt items).
- Winter Arrange silk Christmas roses or other flowers typical of this season in your area.
- Anyway when you have to choose the ornaments that work well with your furniture, look at your house carefully and try to enhance harmony of colors already present or interrupt monotony due to nuances that are repeated too many times.
- Look at my Christmas decoration with the same platter!
Rate this!
Rating: 5 / vote cast: 1