Pot-pourri in the platter
Decorate a plate with this technique and fill it with pot pourri, flowers and balls
This Christmas decoration is easy to do even for people who don't know the gold leaf technique. It is very refined: its colors are well combined as you can see in the photo. I placed it on an old furniture but I think it may be very decorative on your shop counter, at office and used as centerpiece too, especially if you have gold trimmed dinner set.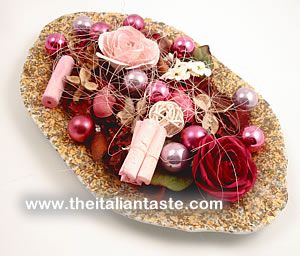 How to decorate a white platter with gold-leaf technique and get it into a Christmas furniture decoration
- Step one: prepare your platter. I chose a white ceramic platter but I think an alternative good idea could be a wooden plate too.
- Step two: apply gilding glue on the border.
Leave for 30 to 60 minutes until it becomes transparent and adhesive.
- Step three: apply gold leaf fragments.
Press them with delicacy. Let the fragments dry for 24 hours.
- Step four: apply water-based finisher and let it dry.
Its use causes all fragments to oxidise.
- Step five: arrange pot pourri elements on the center.
Then add roses and Christmas balls alternating glossy and opaque colors.
Look at the photo and its enlargement for more details.
- Once finished Holiday season, you can remove all Christmas balls and let pot pourri and roses on the platter.
I have other ideas to use this platter all year round. Roses on platter decorated in gold leaf.
Rate this!
Rating: 5 / vote cast: 1