DIY winter little tree
How to make a simple little tree and decorate it for winter season
The year has just begun, you are undoing your Christmas decorations but ... what a pity! Your house seems empty now, doesn't it? What about a winter decoration modifying a Christmas tree?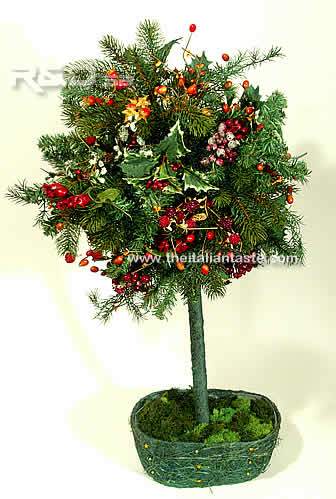 You'll need
- Basket (15x30 cm - 6"x12")
- Bamboo stick, 60 cm (24") long
- Oasis floral foam sphere, 15-16 cm (6") diameter
- Foam brick, 7,5x10x23 (3"x4"x9")
- Artificial pine branches
- Artificial holly branches
- Red berry & gypsophilia sprays
- Orange berry sprays
- Scissors
- Nippers
- Double sided tape
- Artificial moss
The same tree can be a Christmas or winter decoration, just change some stuff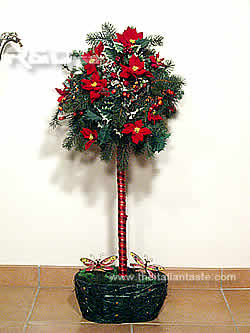 - Begin looking at the Christmas little tree to the right, very carefully, and compare the two photos.
It is very similar to the tree above, right? except for some details.
In fact I removed all the poinsettias and some Christmas sprays but I left two or three holly sprays and added other artificial pine branches and a lot of berry sprays of different colors.
Try to arrange all your ornaments evenly.
Your decoration is ready!
Place it near your main door, in the hall, in the shop window, in the office ... wherever you can see it and enjoy it!
Rate this!
Rating: 5 / vote cast: 1