Easter tree with butterflies
Simple-to-do Easter decoration matched to a fairy tale, to make with your kids
For this Easter or spring decoration you'll need
- Artificial pine
- Long, thick felted strings in different spring colors
- Butterflies in different spring colors
- A bigger butterfly for the top
easter decorated tree How-To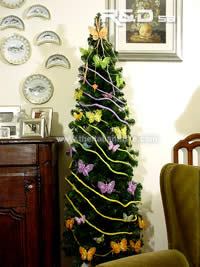 - Look well at the photos with my Easter tree before buying your ornaments.
Choose well the colors.
They must be suitable for Easter and spring too.
- Begin to decorate your tree with felted strings.
Your strings must be long enough to turn around your tree two or three times.
- Continue with butterflies.
We chose butterflies of 4 colors linked together by a silk ribbon decorated with beans. Look at the the first photo for more details.
- Put the bigger butterfly on the top.
- If you have other butterflies you can add them too.
- Your Easter tree is ready!
How to save money on Easter decorations
- This Easter or spring decoration may be done with no cost.
Here's how you can do.
- This tree is the classic artificial pine you have the habit to decorate at Christmas.
The fashion of Easter or spring tree is spreading all over the world.
There is someone that doesn't put away the pine decorated for Holiday Season. I'm one of these persons ;)
In fact you can substitute the Christmas ornaments with dried oranges or other winter items and then decorate your pine with spring ornament. As I did. I have the habit to decorate the same pine tree in summer and fall too!
Read our page dedicated to orange-decorated tree. I made it for Christmas but it is a nice idea for January and February too. It is enough to remove its golden net, add other orange slices and change ribbons.
- Then you can look for butterfly images together with your children.
Cut out and paste the pictures on cardboard. Then join them with a colored wool yarn.
- The same wool can substitute the felted strings.
Another tip: buy raffia strips. They are very chip and nice to decorate your spring tree.
- If you don't like the pine tree used for Christmas you can make another decoration.
You can draw the shape of a tree from a cardboard and decorate it following our idea.
Hang the decorated tree on the door of your children bedroom.
Work all together and enjoy this moment!

Rate this!
Rating: 5 / vote cast: 1