Setting the table for Christmas in white
Setting the table in white, in Italian way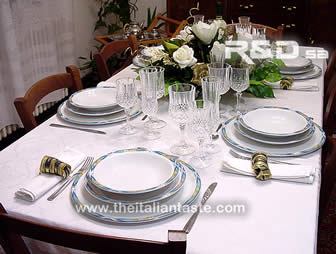 The table we suggest to you is very simple, in two prevailing colors, white and green and it's very refined.
We haven't mixed too many colors because we think that refinement needs simplicity.
Besides white is always synonym of elegance.
But the most important thing is we reached this result without using very expensive dishes, glasses, cutlery or centrepiece.
The table-cloth is white; crockery is white and in china with delicate decorations.
We used crystal glasses. Knives and forks are in stainless steel.
The predominant colors are: white and green.
The centrepiece is realized with white silk flowers and some golden decorations. That's cool! You can use it for decorating your table at Christmas but you can use it for other special occasions;it's enough to substitute golden decorations with other silk flowers.
Other images
Rate this!
Rating: 5 / vote cast: 1