A white and golden table for Christmas
Let's use white and golden colors for our Christmas table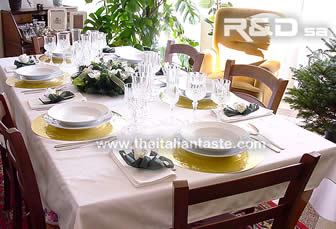 It's easier than we think to change look to our table: an original centrepiece, a beautiful tablemat, a different placecard. And it isn't necessary to spend too much!
In this case we've realized a magic and unusual Christmas table.
As we made for other examples it's only a suggestion; it may be you have some ideas looking at our images and can combine your things in a different way.
The table-cloth is white; crockery is white and in china.
We used crystal glasses for water, wine and sparkling wine. Knives, spoons and forks are in stainless steel. We made a beautiful touch of golden color using a cardboard tablemat.
The predominant colors are: white, gold and green.
Placecards are put on every napkin; go to this page for step-by-step instructions. We used the same roses for our net Christmas tree. We throw nothing away!
The centrepiece is realized with white silk roses, pine and a golden ribbon. That's cool! You can use it for decorating your table at Christmas or for a corner of your home.
Details of the seat at the table with placecard.
In this photo you can look at the placecard; click here if you want to realize it.
In this picture we arranged spoon, knife and fork in a different way; they are not lined up with the dishes, they are put on them. We tied up them with a green-golden ribbon whose colors combine very well with the whole table: gold, white and green!
Other images
Rate this!
Rating: 5 / vote cast: 1