Italian food arrangement ideas
How to decorate a table for a dinner party, Italian-style
What's the best idea to make a centerpiece that can remind Italian food? I'm sure this is the question for many people planning an Italian party. Let's see some ideas!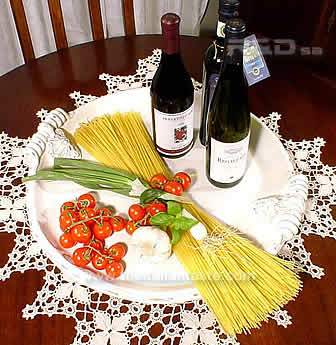 You'll need
- 500g (1.1 pounds) spaghetti
- 2 boiled leek leaves
- Some cherry tomatoes
- Garlic
- A little onion
- Basil spring
- A bottle of red wine
- A bottle of white wine
- A bottle of extra virgin olive oil
How to do a food arrangement to decorate your table for a dinner party, Italy-style
Planning an Italian dinner party is not difficult. You only need to set your table very well because in Italy we care about a beautiful table. So you have to do a nice-to-see centerpiece. You can choose among a classical flower arrangement, a decoration made with fruit and flower or with vegetables and fruits, an edible centerpiece or other solutions. But the most important thing is to cover your table with a table-cloth and to use cloth napkins combined with it. If the dinner is not formal, you can also use paper napkins with images of tomatoes, spaghetti, pizza or Italian cities and monuments ...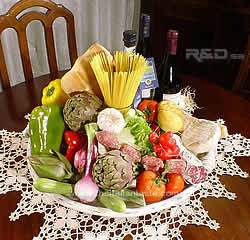 - This is a very easy to do centerpiece, ideal for a simple dinner based on Italian spaghetti. You'll be able to use all your items once finished your party.
- Place spaghetti in a serving platter.
Put some cherry tomatoes, basil and garlic on them and tie all these ingredients with your boiled leek leaves (you have to boil them, 2 to 3 minutes).
Then place remaining cherry tomatoes and all bottles on the serving platter.
Your centerpiece is ready.
- On the right, you can see another example. A food arrangement for a colored Italian menu. You could make it for a buffet table too.
This centerpiece is made with some spaghetti placed in a tall glass in the center of a round serving platter. Around the glass, you can put all the vegetables typical of many Italian dishes: tomatoes, garlic, fresh and young onions, red and yellow peppers, artichokes and so on.
Do not forget other typical Italian ingredients: bottles of red or white wine, a bottle of extra virgin olive oil, salami, different kinds of cheese from Italy (Parmesan, Scamorza, Fontina ...), bread ...
This is another idea for a meal, buffet-style.
Well, if you are interested in edible ideas, follow the link!
Rate this!
Rating: 5 / vote cast: 1